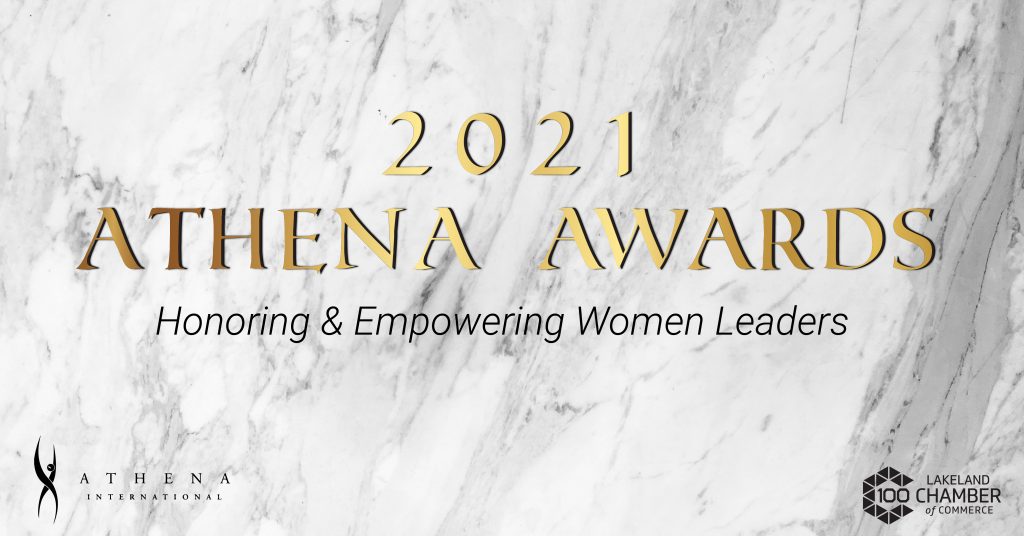 SUPPORTING, RECOGNIZING, AND HONORING WOMEN LEADERS OF LAKELAND
The Awards Dinner Presentation will honor exceptional leaders that inspire others to achieve excellence in their professional and personal lives in three categories.
ATHENA Leadership Award Winner - Stacy Campbell Domineck (CareerSource Polk)
ATHENA Organizational Award Winner - Junior League of Greater Lakeland
ATHENA Young Professional Award Winner - Lauren Albaum (Florida Southern College)
Founded in Lansing, Michigan in 1982, the ATHENA Awards Program will debut as a Lakeland Chamber of Commerce premier program this fall. More than 7,000 top leaders in over 500 communities have received this prestigious ATHENA Award in nine different countries. The award actively advocates and celebrates the ATHENA mission of supporting, developing, and honoring women leaders, inspiring women to achieve their full potential, and creating balance in leadership worldwide. The ATHENA Award honors women who strive toward the highest levels of personal and professional accomplishment, who excel in their chosen field, devote time and energy to their community in a meaningful way, and forge paths of leadership for other women to follow.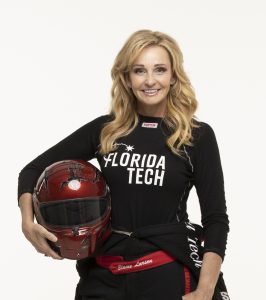 Guest Speaker: Elaine Larsen
With over 20 years of drag racing experience, Elaine Larsen has found her home behind the wheel of her jet dragsters. Elaine is a 2X World Champion and with her husband, Chris, their son, Andrew, and dog, Nitro, she lives her life at full throttle. Mentoring the next generation of High-Performance Vehicles Specialist is what fuels Elaine today. Giving women a chance behind the wheel or hands-on opportunities in this male-dominated industry is her focus for 2021 and beyond.
Elaine is the creator of four comic books, "Blaze." These books were inspired by real-life experiences and adapted to high STEAM education and embedded curricula for each of the corresponding comics.
"Drag Racing is the equalizer. On any given day, I have the same chance as anyone to win. It just has to be my day!" says Elaine. Being a strong positive female role model is a job Elaine takes very seriously, not only for the little girls but to all ladies out there never to give up and always give 100%.