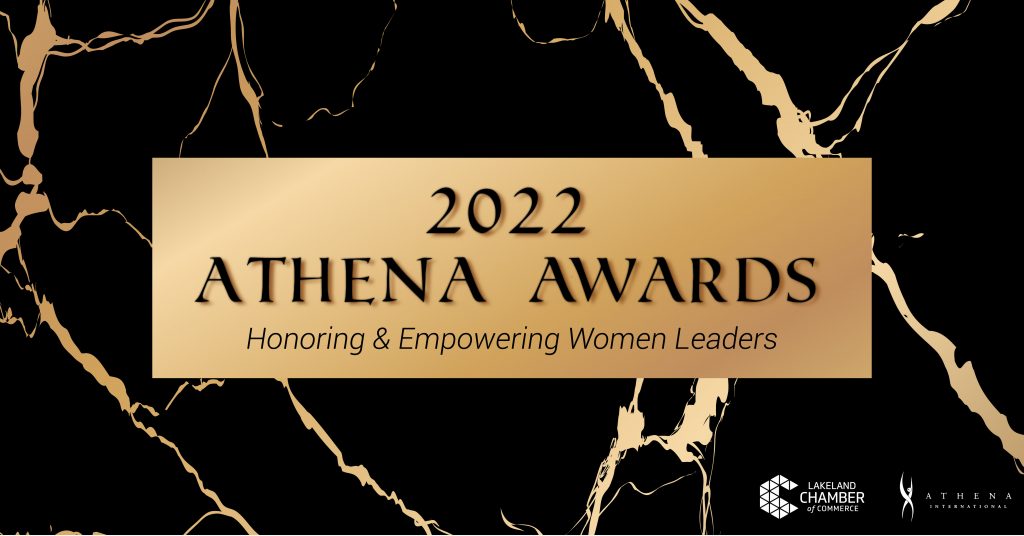 September 8, 2022 at The Polk Theatre from 6:00 pm to 8:00 pm
The ATHENA International mission encourages women to live authentically, learn constantly, build relationships, foster collaboration, act courageously, advocate fiercely, and give back to the community. This event acknowledges woman leaders who embody the ATHENA International Mission and Vision. Join us to award and honor our recipients and nominees of the ATHENA Leadership Award, Young Professional Award, and the Organizational Award.
ATHENA allows the Lakeland Chamber to be a champion for women leaders and women-owned businesses in the community. This event brings together leaders and influencers that can assist and mentor other businesswomen to flourish.
Guest Speaker: Richele Floyd with The Lady Aces
Led by Richele Floyd, The Lady Aces were recently among more than 50 teams that took to the skies on June 21, 2022, to race across America in the Air Race Classic. The Air Race Classic is an annual female-only airplane race in the country, and this year the starting line was none other than the Lakeland Linder Airport. The racers hopped around the US to reach the finish line in Terre Haute, IN, traveling over 2,500 miles.
Richele Floyd is the Director of Scholarships at the Aerospace Center for Excellence located at the Lakeland Linder International Airport. The main focus of her position is to engage, educate, and accelerate the next generation of aerospace professionals. Richele's experience includes a B.S. in Civil Engineering, teaching certificates in Math and Science, and Certified Flight Instructor rating. Most recently, she was the acting Pilot in Command of the Lady Ace's Air Race Classic team. Other attributes on Richele's resume include, commercial pilot certificate with an instrument rating, FAA Part 107 sUAS certificate, portfolio of STEM and aerospace curriculum, and conglomeration of professional memberships.