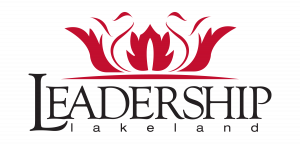 About Leadership Lakeland
Planning for the future requires an understanding of the many different components of the community. Leadership Lakeland focuses on major areas of community interest and concern, including government and politics, economic development, the environment, criminal justice, business, the arts, education, communications and the media, and health and human services.
The Leadership Lakeland experience begins in August with an Orientation and Reception honoring the new class, followed by an Opening Retreat in September. The class meets once a month from October through May with a Mid-Year Retreat held in January. In addition, sessions are held at various locations throughout the community relevant to the month's topic. This format provides the participants with a broad perspective that includes hands-on experiences. Finally, in May, the program concludes with a Closing Retreat and Graduation.
Established in 1983 by the Lakeland Chamber of Commerce, Leadership Lakeland is an annual program designed to identify leadership and enhance existing leadership in our community. Leadership Lakeland does not take public policy positions or advocate any individual viewpoint. The program unites leaders from diverse backgrounds and perspectives to improve their ability to lead effectively, offering its members a broad range of experiences and insights about the community, its people, its needs, and its services.
Leadership Lakeland has a lasting impact on the quality and effectiveness of the leadership in our community. The greatest wealth of a community lies in the quality of its leadership.
NOMINATIONS FOR CLASS 39 ARE DUE BY APRIL 1, 2022 AT 5:00 P.M.
Leadership Lakeland is administered by a Program Coordinator, Steering Committee, and the Board of Directors of the Lakeland Chamber of Commerce. This group guides the program's structure, budget, fees, and candidate selection.
Nominees will receive an application packet via email once Nominations are closed. Selections will be made from all applications received. Completion of the application does not guarantee acceptance into the program. Class size is limited. Individuals who have not been selected previously are encouraged to reapply. A confidential Selection Committee will review the applications and announce the selected members of the Leadership Lakeland class in June.
Nominations are non-transferable and any announced political candidates will be excluded from the program. Also, immediate family members will not be accepted in the same class. Businesses, organizations, and individuals may nominate someone to be in Leadership Lakeland. Individuals may also self-nominate.
Identifying existing and emerging leaders from various geographic, occupational, and economic segments of the community who have a sincere commitment to remain in Lakeland.
Acquainting the participants with a wide range of community issues, resources, and opportunities in Lakeland and Polk County to discover a greater sense of community.
Increasing the participants' leadership skills and developing an "esprit de corps" among them will provide a collaborative group for working together on present and future community and Lakeland Chamber projects.
Providing participants with an opportunity to meet and exchange ideas with each other and existing community leaders to learn from their backgrounds and perspectives.
Assisting participants in finding placement in volunteer roles in the community and within their chosen area.
Acquainting the participants with the Leadership Lakeland Alumni Association.
Individuals who have attained a top leadership position within their business/organization or who have the potential for advancement to top leadership positions.
Individuals with excellent potential to play a significant role in the community's future.
Individuals who have demonstrated a commitment and interest to serve in the community and the Lakeland Chamber.
Individuals who have an occupational commitment to remain in Lakeland.
Individuals who represent a cross-section of the community including business, government, human services, community volunteers, and professionals.
Individuals who commit to one full day each month for eight months, a mandatory orientation/reception, a mandatory two-day opening retreat, an evening mid-year retreat, and a day-long closing retreat with graduation.
Individuals who are physically able to participate in the strenuous/physically challenging agendas, which will include a considerable amount of walking, climbing stairs, and being in close quarters.
Leadership Lakeland Requires a serious commitment of time and energy. Day-long sessions are usually held on the second Thursday of each month. Attendance is mandatory at the orientation/reception, opening retreat, mid-year retreat, and closing retreat. At least 75% attendance is required for the day-long sessions throughout the program in order to graduate. All dates are published in advance for planning purposes.
Tuition for Chamber Investors is $1,950 and Non-Investors is $2,350. Partial Scholarships are available. Nominees should contact the Lakeland Chamber to receive a scholarship form or for more information. Any financial assistance is based upon need. Scholarship applications must be turned in with the Leadership Lakeland application prior to the deadline.
Thursday, August 11, 2022
Orientation & Reception
Mandatory
Friday, September 9, 2022 & Saturday, September 10, 2022
Opening Retreat
Mandatory
Thursday, October 13, 2022
City Government Day
Thursday, November 10, 2022
Law Enforcement / Judicial System Day
Thursday, December 8, 2022
County Government Day
Thursday, January 12, 2023
Education Day
Thursday, February 9, 2023
Health Care Day
Thursday, March 9, 2023
Area Economy Day
Thursday, April 13, 2023
Human Services Day
Thursday, May 4, 2023
Communications / Arts & Culture Day
Thursday, May 11, 2023
Closing Retreat
Mandatory
Thursday, May 11, 2023
Evening Graduation
Mandatory
For information about the Leadership Lakeland Alumni Association, please CLICK HERE!