Performing Arts Foundation Awards $2,500 Scholarship to Local Dancer, Singer
The Betsye Kay Finch Performing Arts Foundation awarded its 3rd annual $2,500 scholarship to Oshea Darrington, singer, dancer, songwriter, actor, and 2022 graduate of Harrison School for the Arts. Oshea's passion for song and dance was sparked by his musical family. "I always knew I wanted to be a performer. I grew up with music all around me," says Oshea, whose father, Quentin Darrington, is a Broadway singe/performer. Oshea was honored by more than 40 friends, family and BKF Performing Arts Foundation members at a May 12th award ceremony at Lakeland's Hollis Garden.
Oshea's mother, Natasha Darrington recalls his first stage role was in kindergarten, where he played a shepherd in A Christmas Story at Judah Christian School in Champaign, IL, where he spent his early years. Since then, he's acted in numerous plays and musicals, including Willy Wonka and the Chocolate Factory, at Champaign Park Youth Theatre; Frozen, at Lakeland Community Theatre; and Hairspray, Once Upon a Mattress, Newsies, and The Hunchback of Notre Dame at Harrison School for the Arts. Oshea also sang in the choir of 'Broadway for Biden' featuring Jennifer Hudson in 2020. To sharpen his skills, he's attended week-long summer master classes for 8 years at Broadway Dreams, a training ground for talented young singers, dancers and musical theatre aspirants in NYC.
In his application essay, Oshea, 18, said he wanted "to continue sharpening my skills so I can be the best I can possibly be." He will head to Decatur, Illinois this fall to pursue a B.F.A. in Musical Theatre at Millikin University.
Helping students "be the best they can be" is what dance teacher Betsye Kay Finch did in her three decades of teaching jazz, ballet, and modern dance at Betsye Kay's School of Dance in Lakeland. She herself danced a brief stint as a Rockette at Radio City Music Hall in the 1940s.  Betsye Kay Finch passed away at age 92 in 2019. Her daughter, Alexis Rocker, launched the BKF Performing Arts Foundation in 2019 to celebrate her mother's joy of dance and musicals. The Foundation supports dance and musical theatre aspirants with its annual scholarship for Polk County high school seniors. For more on the Foundation, visit https://www.bkfperformingarts.org/.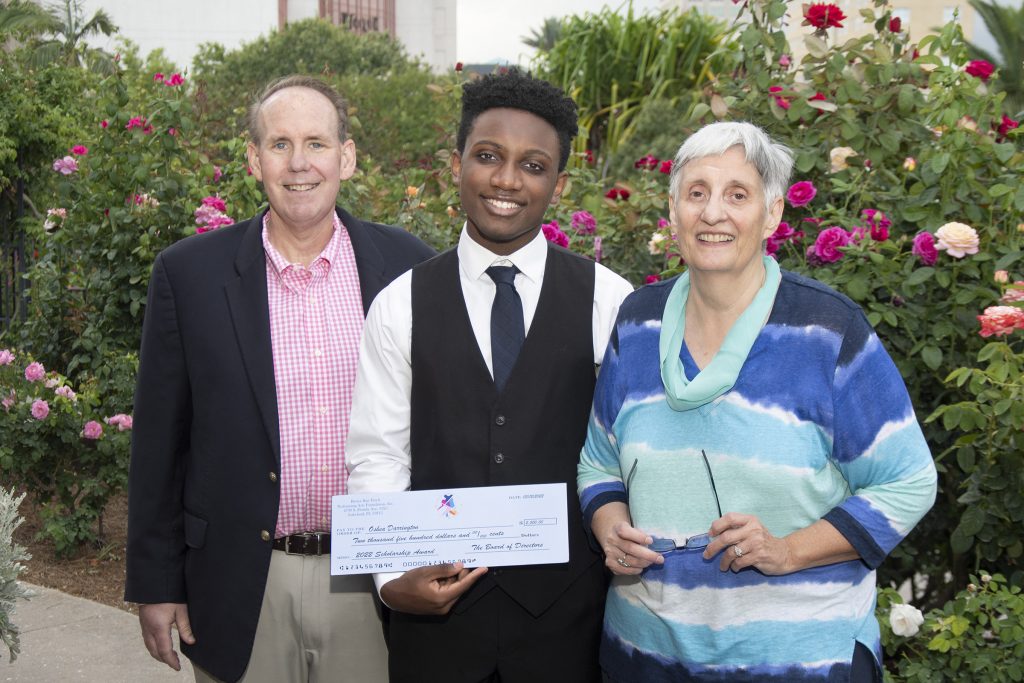 Al Finch, Oshea Darrington, and Alexis Rocker
Photo: Robin Phillips, Phillips Photography