Betsye Kay Finch Arts Foundation Awards 2021 Scholarship
The Betsye Kay Finch Performing Arts Foundation awarded its 2nd annual $1,500 scholarship to Rachael Renee Gomez, a singer, dancer, and musician, and a 2021 graduate of Harrison School for the Arts. More than 40 friends, relatives, and foundation members attended the award ceremony on June 10 at Hollis Garden in Lakeland.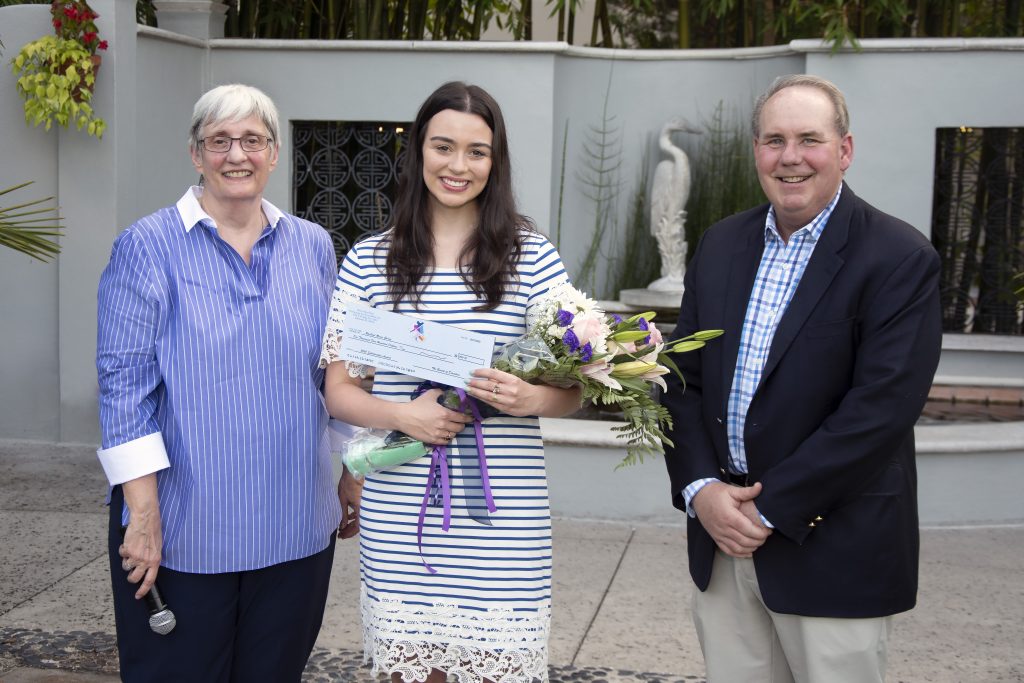 In her scholarship essay, Ms. Gomez, 18, of Plant City, said her passion for music was sparked early on by her music-loving family. "My mother taught me to sing "Tomorrow" from the musical Annie when I was four years old. We'd sing it everywhere — from our front porch and even in grocery stores! And my father introduced me to 80s classic rock music." Performing she said, "has been one of my biggest dreams for as long as I can remember." At Harrison School for the Arts, she performed in many musicals including Oklahoma! and also in Lakeland Community Theatre's Hairspray and Ring of Fire.
Ms. Gomez's Hispanic heritage frames her identity. Her great-grandfather left Spain for New York to pursue the American Dream. When he arrived at Ellis Island, "all of his hopes and desires were right before his eyes. All he had to do was take a step off the ship."
Continuing in his tradition, Ms. Gomez will move to Nashville, Tenn. this fall — the epicenter of country and gospel music — to chase her dreams starting at Belmont University, ranked in the top-20 U.S. music schools. Located on Music Row, home to recording studios and music venues, Rachael will pursue a Bachelor of Fine Arts degree in Musical Theatre. From there, she plans to build a career in musical theatre on Broadway and in film as well.
She says that her parents and her brother, Hayden, have supported her in all her artistic endeavors. "They have always taught me to go after anything and everything that comes my way. They have done everything in their power to help me." Ms. Gomez, is the daughter Sylvia Gomez, who recently passed away, and Alfredo Gomez.
Beyond performing, Ms. Gomez says she hopes to help advocate for human rights. "I believe that everyone has the ability to make the world a better place through their talents." Making the world a better place is also what the Betsye Kay Finch Performing Arts Foundation strives to do. The Foundation offers scholarships for Polk County high school students with dreams of a career in musical theatre and/or dance. Betsye Kay Finch, the Foundation's namesake, was a jazz, tap and ballet dancer. She left Lakeland at age 16 to study dance in New York City where she danced in off-Broadway musicals and worked a short stint as a Radio City Music Hall Rockette. After moving back to Lakeland to marry and raise a family, she started Betsye Kay's School of Dance and taught hundreds of young dancers for over three decades. Betsye Kay Finch passed away on March 3, 2019 at age 92.
Lakeland Mayor H. William Mutz sent a letter of congratulations to Ms. Gomez and thanked the BKF Foundation for supporting young artists. "These young folks are the future leaders of our city and our country and we must all do what we can to help them build a better tomorrow," Mayor Mutz said.
Betsye Kay Finch's daughter, Alexis Rocker, launched the BKF Performing Arts Foundation in 2019 to keep alive her mother's Joie de vivre. "She loved music and dance!" says Ms. Rocker, who has worked with the foundation members to raise funding this past year. "Despite the closures from the Covid epidemic, we were pleased to see our foundation grow. Next year we plan to increase the scholarship and help more students pursue dance or musical theatre." For more on the Betsye Kay Finch Performing Arts Foundation, visit https://www.bkfperformingarts.org/
Press Release: For further information, please contact Alexis Rocker at 859-912-2649.