Pursuit of adventure, speed fuels Florida Poly President's dirt bike racing
LAKELAND, Fla. – Thick Florida wildland with steep, muddy slopes and rough, rocky terrain is the perfect setting for Dr. Randy K. Avent to strap on his helmet and indulge in his lifelong passion.
The Florida Polytechnic University president often meets up with alumni, students, and friends to conquer the woods and tracks of Florida from the perch of his high-powered dirt bike, a KTM 350. They also travel together and compete in races throughout the state.
"It's something that you enjoy that you can just lose yourself in," Avent, 62, said. "When you're on a dirt bike, the only thing you're worried about is the 20 feet in front of you, and you don't think about it for long. You're racing between the trees at 25, 30 miles an hour and you can't think about work or anything else – all you can think about is getting through that path."
Avent's love for off-road racing sparked when he was a boy growing up in New Bern, North Carolina. He began pining for his own dirt bike around age 10 and saved money from a newspaper delivery route and a job at Dairy Queen to make his adrenaline-fueled dreams a reality. The summer before 9th grade, Avent bought a second-hand Honda SL125 and reveled in the freedom it brought.
"When I rode, I knew that I was meant to do it," he said.
Throughout high school, Avent towed his increasingly better bikes behind his mom's purple Gremlin, taking on the region's rocky landscape and competing in motocross races. When he wasn't riding, he was working on his bike and dreaming of becoming the chief mechanic at a Honda shop.
"All through high school, it was all about riding," Avent said. "I've always liked speed. I like being a little on the edge."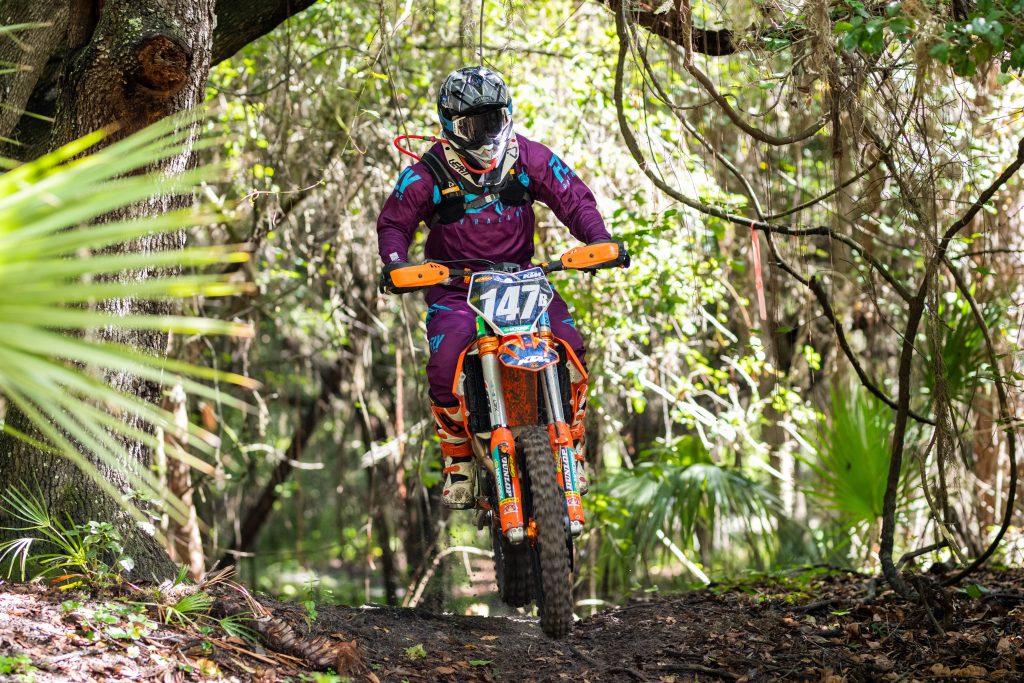 Through the years, Avent's passion for dirt biking has remained strong, though he took long breaks over time – once to focus on college and scuba diving, then again to focus on fatherhood. As his sons neared high school age, Avent brought them into the sport and raced with them throughout New England.
"Every weekend we would take a two-hour drive to the New Hampshire mountains, spend all day riding, and then have two hours driving back," Avent said. "It was a great way to spend time with the kids."
When his children left high school and the weekend trips ended, Avent again gave up his bike but knew his days of riding weren't over.
As he arrived to lead Florida Poly, Avent suspected the region's flat, muddy terrain would be great for riding. However, he didn't pursue it until one day Jacob Livingston '18, then the student body president, invited him to join a group of students for a ride at Bone Valley ATV Park.
"I went out for about 20 or 30 minutes, came back, gave Jacob his bike back, and said thank you very much," Avent said. "Then I went home and typed KTM 450 into Craigslist."
Avent now competes in enduro and hare scramble races throughout the state in the Golden Master B class. The enduro races feature long, precise treks along with rough and wild natural courses. Hare scrambles find racers scrambling at the start to leap on their bikes before making their way through a loosely marked natural course, the "hare" racing at the front finding and leading the way.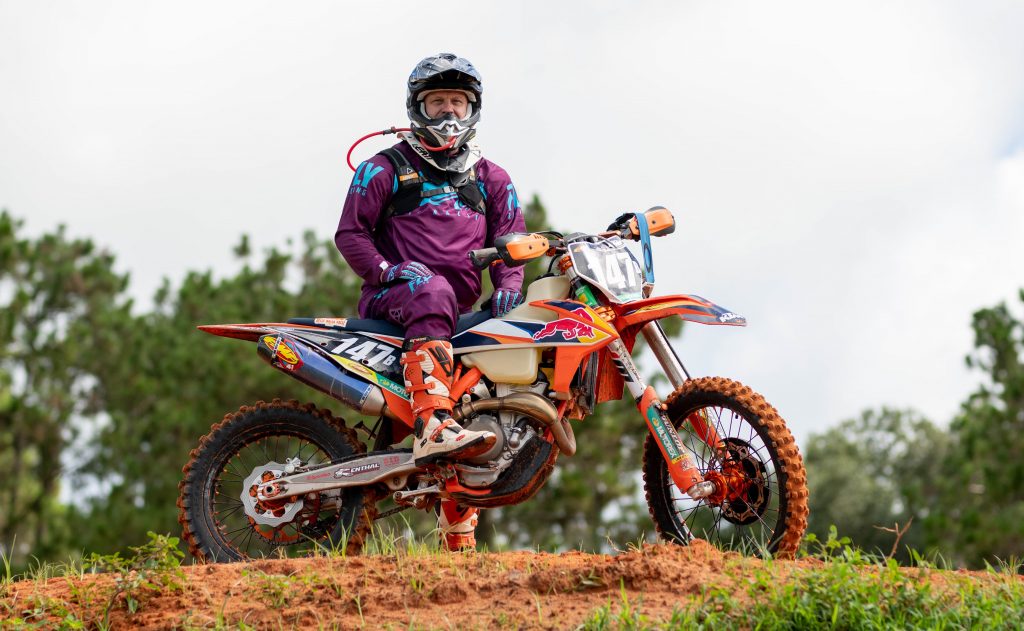 Recently, Avent raced in Alachua and Okeechobee, Florida, placing third and fifth, respectively. He is now focusing on ensuring his bike is ready for the start of the racing season this September.
"This summer I will take my KTM 300 completely apart and rebuild it – new pistons, new rings, new brakes, new countershaft seal," he said.
This comes as he has recently finished a complete restoration of a 1972 Penton bike – nearly the same machine he purchased as brand new during his senior year of high school.
When this fall's racing season returns, Avent said he will be ready.
"When I got back into this, I thought it's going to be easy because no one is going to be riding my age," he said. "But it's survival of the fittest. Everyone in my class has grown up racing in the Florida Series since they were 20 years old.
"Only the strong have survived, and they are very fast. It's really a lot of fun."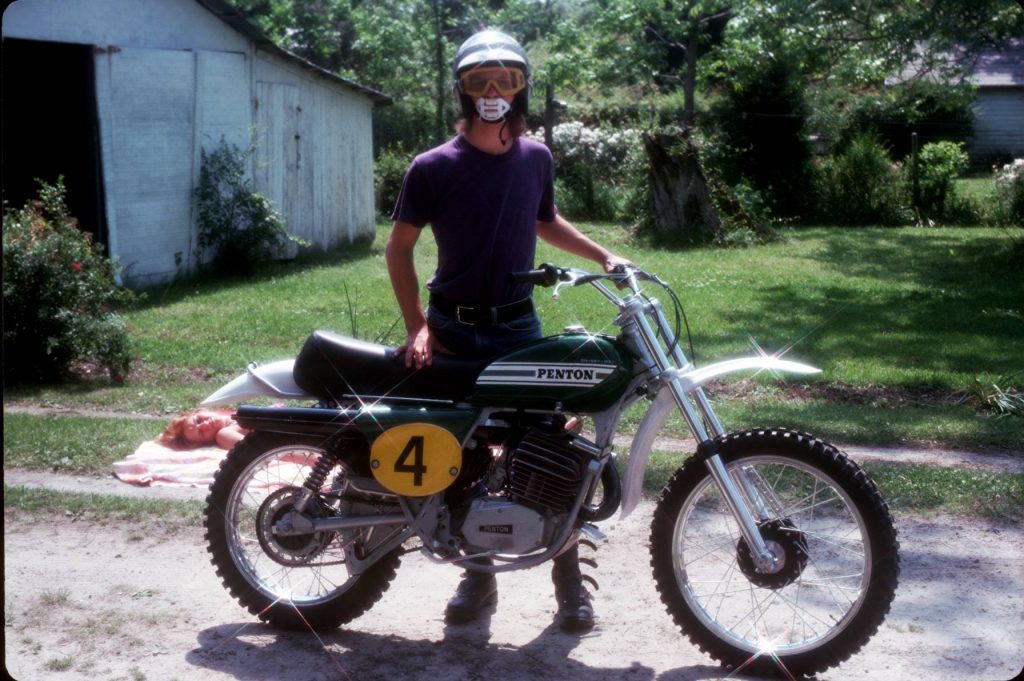 Dr. Randy K. Avent, president of Florida Polytechnic University, pictured as a teenager in New Bern, North Carolina, with his 1974 Penton dirt bike.
For the most recent university news, visit Florida Poly News.
About Florida Polytechnic University: Florida Polytechnic University is a nationally ranked Top 100 engineering college, accredited by the Southern Association of Colleges and Schools Commission on Colleges, and a member of the State University System of Florida. It is the only state university dedicated exclusively to STEM and offers ABET-accredited degrees. Florida Poly is a powerful economic engine within the state of Florida, blending applied research with industry partnerships to give students an academically rigorous education with real-world relevance. Florida Poly's iconic Innovation, Science, and Technology Building, designed by world-renowned architect Dr. Santiago Calatrava, has won more than 20 global awards and was named one of the 16 most breathtaking buildings in the world. Connect with Florida Poly.