Lakeland Regional Health Medical Center Introduces County's First ROSA Knee Robot
Lakeland, FL – Lakeland Regional Health Medical Center now offers Polk County's only ROSA® Knee Robot to markedly improve outcomes for patients undergoing total knee replacement surgeries.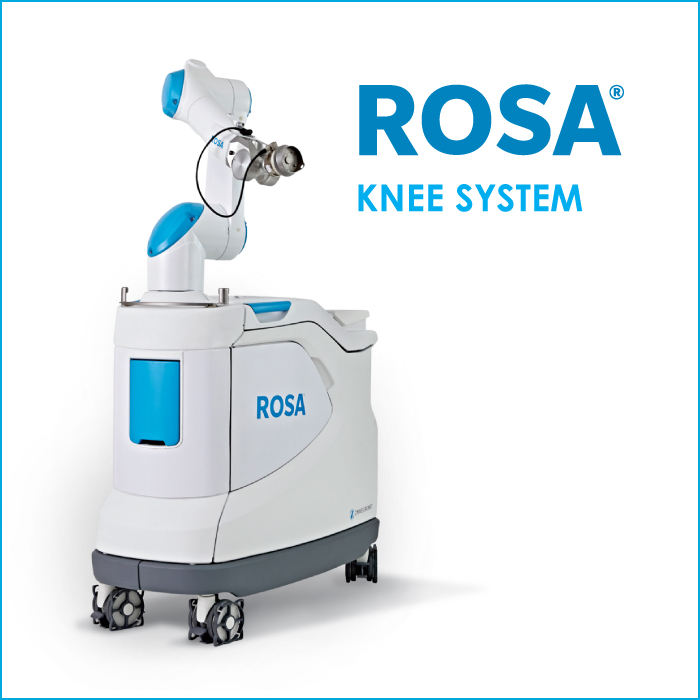 "Our exceptional orthopedic surgeons and surgical teams consistently find ways to bring state-of-the art technology to our patients," said Timothy J. Regan, MD, President, Lakeland Regional Health Medical Center/Chief Medical Officer, Lakeland Regional Health. "Having this advanced option for total knee reconstruction locally offers many benefits to patients needing this type of surgery."
"ROSA provides real-time information for surgeons during knee replacement surgery which allows patients to receive more precise placement of the implant in order to achieve superior outcomes," said Phuc Vo, MD, board-certified Orthopedic Surgeon at Watson Clinic. "This robotic-assisted surgery gives us leading-edge tools to provide our patients with an even higher level of joint replacement care."
The ROSA Robotic Knee System® is recommended for individuals who have osteoarthritis of the knee with symptoms such as knee pain, knee swelling and knee lock that have not responded to more conservative treatment measures.
ROSA, which stands for Robotic Surgical Assistant, is designed to help specially trained surgeons tailor the placement of the implant in each patient. ROSA, manufactured by Zimmer Biomet, uses data collected before surgery and during surgery to inform the surgeon of details related to each patient's anatomy.
To learn more about ROSA, visit myLRH.org/ROSA.
About Lakeland Regional Health Medical Center
Lakeland Regional Health Medical Center is Florida's fifth largest hospital. Founded in 1916 as Morrell Memorial Hospital, this 864-bed, comprehensive tertiary referral hospital operates the Jack and Tina Harrell Family Institute for Advanced Cardiovascular Medicine; a Level II Trauma Center; the Carol Jenkins Barnett Pavilion for Women and Children, which includes a Level III Neonatal Intensive Care Unit; and the Bannasch Institute for Advanced Rehabilitation Medicine. The Medical Center holds high-level accreditations for its Certified Comprehensive Stroke Center and Chest Pain Center. Three hybrid operating rooms and a catheterization lab offer patients the least invasive surgeries possible and enhanced safety. The Medical Center is home to one of the nation's busiest single-site Emergency Departments and handles over 3,000 trauma visits annually.
About Watson Clinic LLP
As one of the largest multispecialty medical clinics in the southeast, Watson Clinic provides comprehensive healthcare services to residents of Lakeland and surrounding communities. First established in 1941, Watson Clinic has grown to include over 220 board-certified physicians representing more than 40 medical and surgical specialties. The Clinic is proud to deliver quality healthcare to every generation from our Main Clinic location at 1600 Lakeland Hills Boulevard in Lakeland, as well as at multiple convenient locations throughout Polk, Pasco and Hillsborough counties. More information is available at: www.WatsonClinic.com.
ROSA1: ROSA the Knee Robot, making its Polk County debut at Lakeland Regional Health Medical Center, offers Orthopedic Surgeons a leading-edge tool in total knee replacement surgery.