T. Mims Corp. Red, White & Kaboom Independence Day Celebration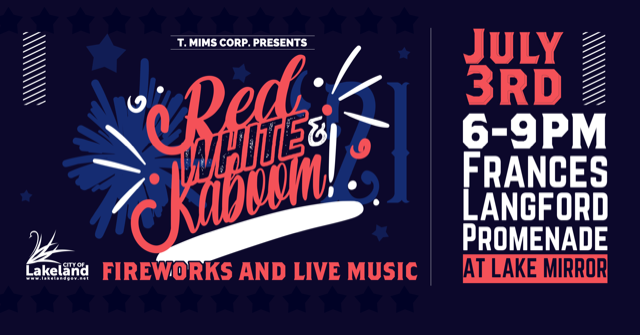 T.Mims Corp. Red, White & Kaboom Independence Celebration will take place at Lake Mirror along the Frances Langford Promenade on Saturday, July 3rd from 6:00 p.m. – 9:15 p.m. with the 60 West Band entertaining the crowd before a dazzling fireworks display launches at 9:00 p.m.
We are asking that everyone who is attending to please bring at least one non-perishable food item. There will be volunteers collecting canned food items that will be donated to Volunteers in Service to the Elderly (VISTE). VISTE is a community based non-profit organization serving Lakeland, Bartow, Mulberry and Ft. Meade. Established in 1983, the primary goal is to enable elderly persons to continue living independently and safely in their own homes.
Red, White & Kaboom festivities will start with a live concert featuring the energetic 60 West Band that will certainly command the crowd playing from their list of popular hits. The 60 West Band is a professional top 40 cover band based out of Tampa, Florida. They have been developing their unique sound and diverse repertoire of songs since 2016. The band was recently voted Best of the Bay for best vocalist and best local release. They were also voted runner up for the best Bay area cover band. Their music spans decades and includes everything from yesterday's Beatles to today's Bruno Mars.
Tom Mims, President of T. Mims Corporation said, "We are very excited to sponsor Red, White & Kaboom again this year and I know the community is looking forward to an awesome event. It is an excellent opportunity for our community to come together in celebration of our great country with live music and fireworks." He added, "We ask all those attending to please bring a canned food item that will help those in need. All non-perishable items benefit Volunteers in Service to the Elderly (VISTE). We want everyone to have fun and help support a great cause like VISTE."
During Red, White & Kaboom there will be a variety of food trucks around Lake Mirror so bring a blanket, bring your appetite and enjoy the festivities in celebrating our great nation. The event will conclude with a dramatic display of fireworks over the lake. The evening is free to the public and everyone attending is encouraged to bring at least one non-perishable food item to benefit VISTE. Those attending can bring their own cooler but no glass bottles please. Also, no pop-up tents or large beach umbrellas are allowed.
A Facebook geofilter has been created for the event, please use the filter and share your experiences through social media using #redwhiteandkaboom2021 and #RWK2021. All City parking garages will be open for T.Mims Corp. Red, White & Kaboom. For more information go to www.lakelandgov.net.