Florida Poly celebrates classes of '20 and '21 commencement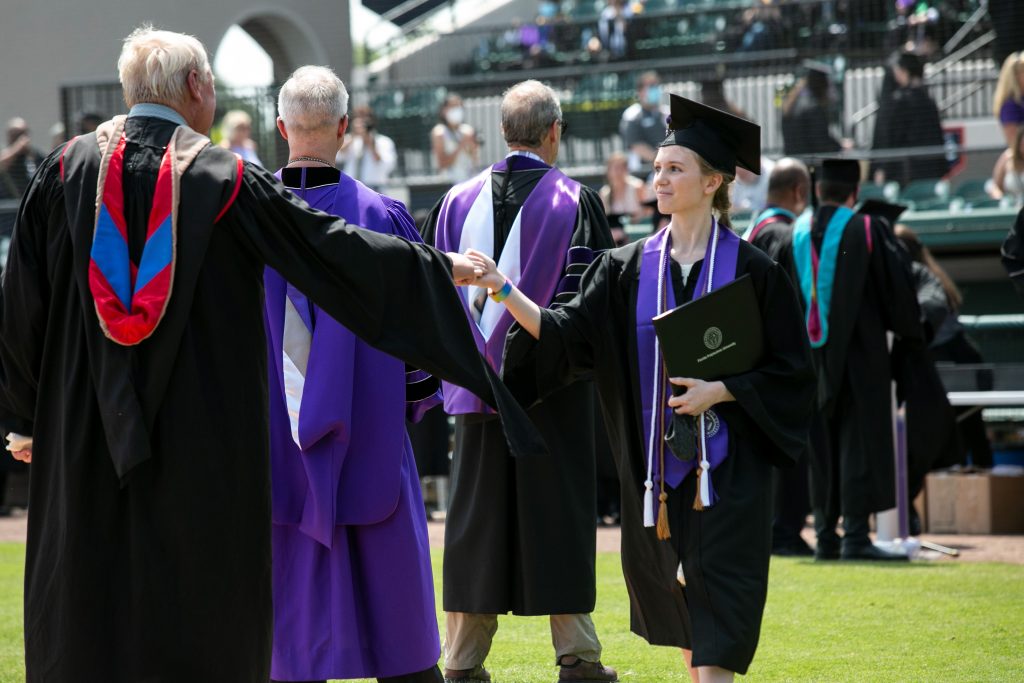 LAKELAND, Fla. – Florida Polytechnic University celebrated the graduation of its classes of 2020 and 2021 on Sunday, May 2, at Publix Field at Joker Marchant Stadium in Lakeland. The long-awaited in-person commencement ceremony marked the culmination of four years of hard work for more than 325 graduates who earned high-demand STEM degrees.
"This really means a lot to me," said Daniel Mayorga '21, who received his bachelor's degree in computer engineering during the ceremony. "Throughout the duration of the last four years, it was very difficult at times when I thought I couldn't do it, but I knew I had my family behind me, backing and supporting me every step of the way."
The socially distanced ceremony adhered to COVID-19 prevention protocols recommended by the U.S. Centers for Disease Control and Prevention. It followed a calendar year marked by remote instruction, enhanced safety practices, and the postponement of the University's 2020 commencement ceremony, as well as new University national rankings, new programs, and faculty accolades.
"Over the past several years, I've watched you, our students, work hard to succeed as individuals and as leaders driven toward a goal and working to make an impact," Dr. Randy K. Avent, Florida Poly's president, said to the graduates. "This past year has brought with it unprecedented challenges that often tested our resolve, but you persevered through a pandemic and showed relentless dedication, focus, and resiliency."
The commencement ceremony featured speakers from the alumni class of 2020 and the graduating class of 2021.
"We were the class that graduated in the middle of a pandemic, and we will be the class that will come out much stronger because of the challenges we faced and overcame," said alumni class speaker Vamsi Hanumanthu '20, who received his bachelor's degree in computer science with a concentration in cybersecurity. He now is an embedded software engineer for Qualcomm and spoke via video recording because he was unable to attend the event.
Megan Morano '21, who received her bachelor's degree in business analytics with a concentration in logistics and supply chain management, was the speaker for the class of 2021.
"As you walk down the path you have chosen, never forget the network that you built here," Morano said. "Over the past four years, we were told to be the next. Now we are the next, and nothing is going to stop us."
Commencement speaker Tom E. Wallace, managing partner at Florida Funders, a Florida-focused investor network and online investing platform passed in Tampa, encouraged graduates to enter the next phase of their lives with an entrepreneurial, risk-taking mindset. He offered several words of advice, including the need to always be learning, creative, generous, and responsible.
­­­­­
"I suggest you seek crazy. Crazy is good and crazy people with crazy ideas are the ones that create real change," Wallace said. "Maybe one of you will come up with a crazy idea and be crazy enough to pursue it that will totally change the way we look for health care or teach our children."
Wallace urged the graduates to do all they could to create incredible lives for themselves.
"My wish for you is when you're in your 80s and look back on your life – the life where you took risks and did everything you wanted to do – that you have absolutely no regrets," Wallace said. "Graduates, you are our future. You are the future of this great state. Go forward and create a Florida we can all be proud of."
For the most recent University news, visit Florida Poly News.
About Florida Polytechnic University
Florida Polytechnic University is a nationally ranked Top 100 engineering college, accredited by the Southern Association of Colleges and Schools Commission on Colleges, and a member of the State University System of Florida. It is the only state university dedicated exclusively to STEM and offers ABET-accredited degrees. Florida Poly is a powerful economic engine within the state of Florida, blending applied research with industry partnerships to give students an academically rigorous education with real-world relevance. Florida Poly's iconic Innovation, Science, and Technology Building, designed by world-renowned architect Dr. Santiago Calatrava, has won more than 20 global awards and was named one of the 16 most breathtaking buildings in the world.  Connect with Florida Poly.