Emily Rogers Consulting + Coaching's Women's Leadership Development Program, Mastering Leadership, begins April 14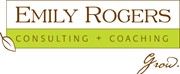 Join Emily Rogers and other professional growth- oriented colleagues for Mastering Leadership a 12-week women's leadership development program that includes six 90-minute virtual workshops, two one-on-one coaching sessions, and a 360-degree leadership assessment. The fee is $2,450 and registration is now open.
Workshops will be held virtually 9:30-11:00am ET on Wednesdays, April 14 and 28, May 12 and 26, June 9 and June 23.
The program is designed for women who are leading teams, were recently promoted to a new leadership role, or are preparing for career advancement.
Emily Rogers, Founder & CEO of Emily Rogers Consulting + Coaching and a 2021 Lakeland Chamber of Commerce Businesswoman of the Year Finalist, is an executive coach, business consultant, and retreat facilitator, she strategically advises and supports individuals and organizations in growing and realizing their full potential in purposeful and balanced ways. You can connect with her at http://emilyrogers.com