CareerSource Polk's Summer Youth Internship Program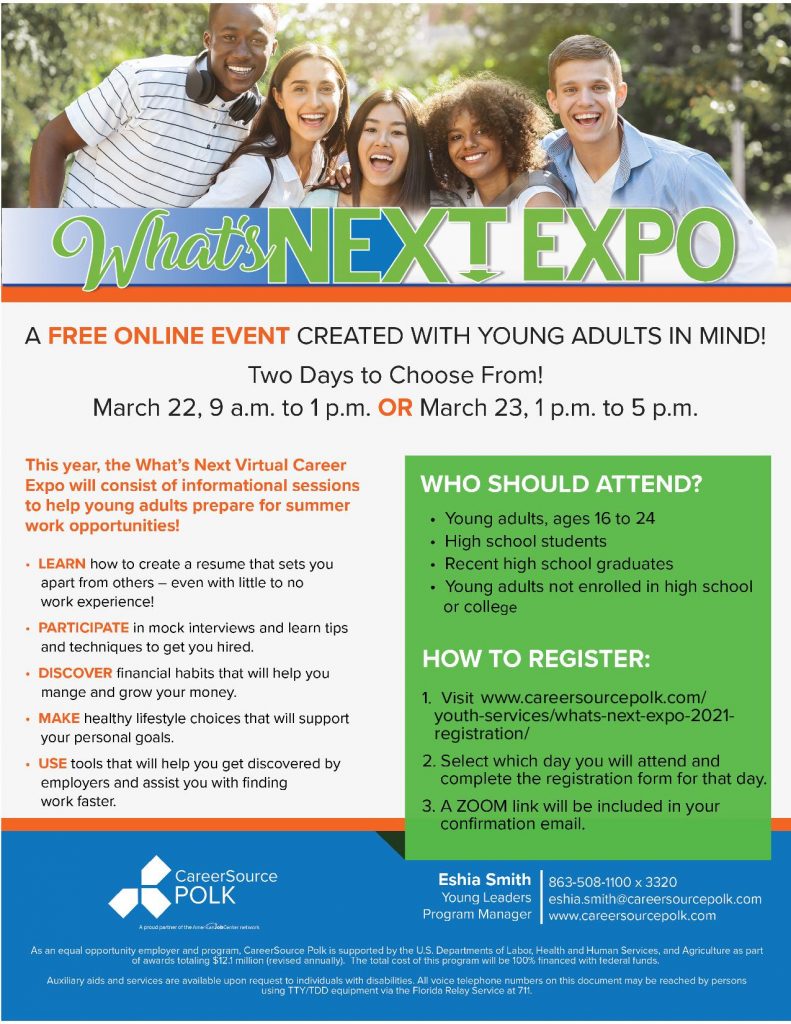 The Application for CareerSource Polk's for Summer Youth Internship Program closes THIS Friday. This year's Internship Program will pay up to $15 per hour, offer additional financial incentives for youth for who complete career readiness milestones and provide needed supportive services that would ensure youth participants have basic needs met in order to full engage in the Internship Program. If you have/know youth who would like to participate, please share and be sure that they have applied online at https://www.careesourcepolk.com/youth-services/summer-youth-internship-program/ by THIS Friday, March 19, 2021
CareerSource Polk's What's Next Career Expo – MANDATORY for Summer Youth Intern Applicants
CareerSource Polk will be hosting its Annual What's Next Career Expo for Youth in Polk county next week (see attached flyer). This will be a virtual event. This event is tied directly to CareerSource Polk's Summer Youth Internship opportunities as it is designed to better prepare Polk County's youth to be successful and productive in their Internship and in the pursuit of their future careers. The What's Next Virtual Expo is MANDATORY those who desire to participate in the Summer Youth Internship Program. All are encouraged to register for the Expo now.
Polk Employer Worksites to Hosts Interns
If your company would like to serve as an Employer Worksite for the Summer Youth Internship Program, you can find the Employer Worksite Agreement attached for your completion and immediate return. Remember… CareerSource Polk pays the wages, incentives and provides the supportive services while Polk County Employers provide quality work experience that propels future success!
Youth Work Experience Program Worksite Agreement Below:
https://growthzonesitesprod.azureedge.net/wp-content/uploads/sites/870/2021/03/CSP-Youth-Worksite-Agreement._rev.pdf
The faintest ink is more powerful than the strongest memory"
600 N. Broadway Ave., Suite B | Bartow, FL 33830
P: 863-508-1600 x 1110 | careersourcepolk.com