Polk State Lakeland Gateway to College Collegiate High School to hold virtual info sessions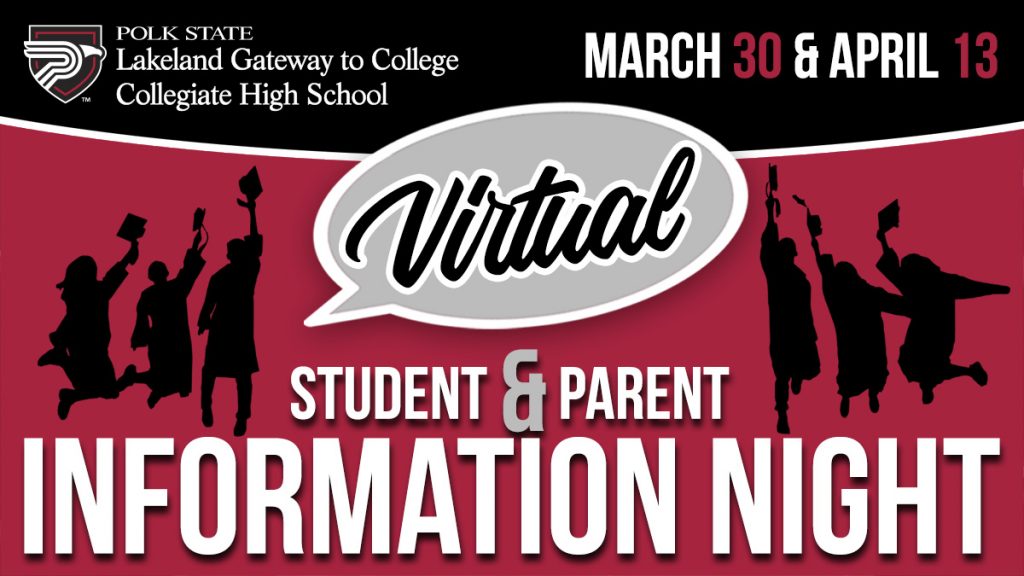 Polk State Lakeland Gateway to College Collegiate High School will host virtual information sessions in March and April for students interested in attending for the 2021-2022 academic year.
Polk State's charter high schools allow students to complete requirements for their high school diplomas while also earning college credits at no cost to them. Many students graduate with both their high school diplomas and associate degrees simultaneously.
Gateway serves students who have earned at least 10 credits required for high school graduation.
Students and their guardians are invited to participate in the following information sessions:
After registering, participants will receive a confirmation email containing information to join the virtual information sessions.
Information sessions will offer prospective students and parents the opportunity to learn about the application process, the Postsecondary Education Readiness Test (PERT), and meet with faculty and staff.
The application for the 2021-2022 academic year will open on Thursday, April 1. More information is available online at www.polk.edu/lakeland-gateway-to-college-high-school.
About Polk State College
Located in Winter Haven, Florida, and established in 1964, Polk State College is a multi-campus institution serving more than 15,000 students with Bachelor of Applied Science, Bachelor of Science, Associate in Arts, and Associate in Science degrees, as well as 9,000 individuals in a wide range of certificate and workforce training programs. The College also operates three charter high schools.
Polk State's advantages include small class sizes; hands-on learning; dedicated faculty; day and night classes; online options; affordable tuition; excellent financial aid; and a diverse community and vibrant student life, including fine arts opportunities, clubs, and intercollegiate athletics.
Madison Fantozzi
Director of Communications
Polk State College
999 Ave. H N.E.
Winter Haven, FL 33881
o. 863.298.6872 m. 954.594.9808
Follow Polk State College on polk.edu | Facebook | Twitter | Instagram