CareerSource Polk Hosting Manufacturing and Supply Chain Virtual Job Fair to Fill More Than 400 Positions in Polk County
Available positions include Forklift Operators, Customer Service Representatives and Mechanics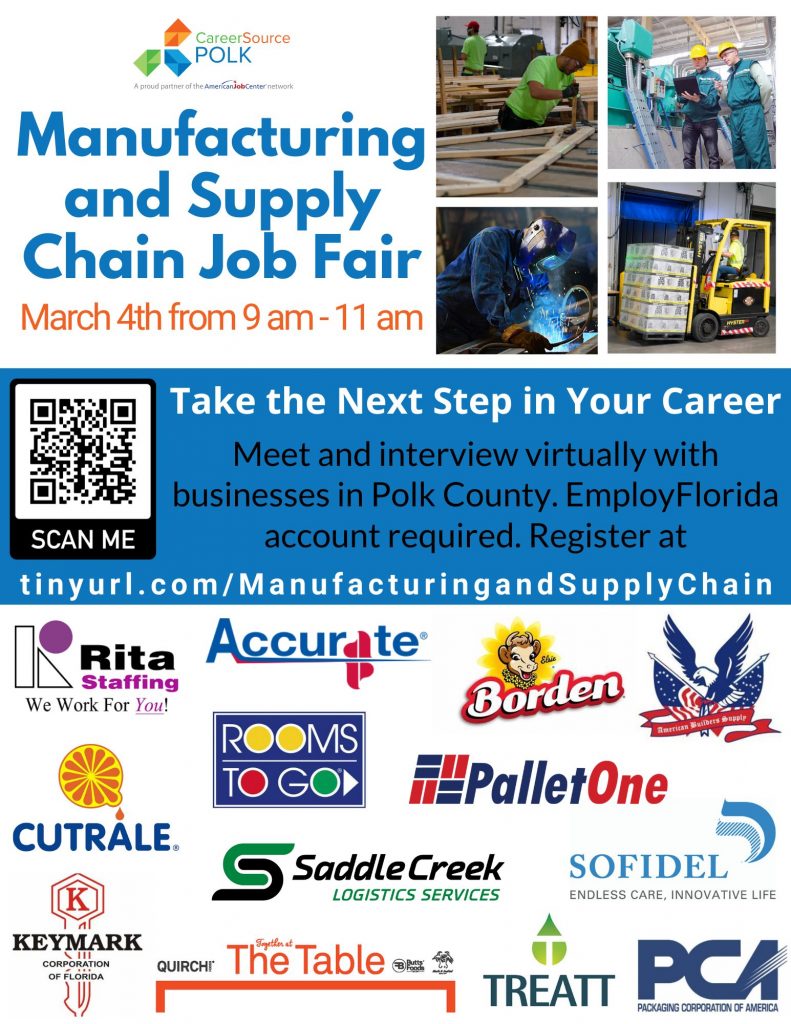 BARTOW, Fla., February 26, 2021 – CareerSource Polk will be hosting a Manufacturing and Supply Chain Online Job Fair on Thursday, March 4, from 9 a.m. to 11 a.m. Job seekers looking to work in Manufacturing or Warehouse Logistics will have the opportunity to meet with local and national employers who are seeking to fill more than 400 positions. Participants can register at tinyurl.com/ManufacturingandSupplyChain.
The impact of the COVID-19 pandemic has left many Polk County residents out of work. The online job fair provides a way for job seekers to easily connect with multiple companies offering part-time and full-time work opportunities. In addition to first, second and third shifts, available positions include forklift operators, drivers and mechanics as well as supervisors, administrative assistants and customer service representatives.
"Due to its central location, Polk County has become a hub for manufacturing and warehousing with jobs and wages that are steadily rising," said Kathy Suttles, CareerSource Polk's Director of Business Services. "We encourage job seekers to take advantage of this great opportunity. If you look at the positions being offered at this job fair, you'll find everything from entry-level positions to management opportunities."
During registration, participants have the option to upload a PDF file of their resume. Attendees must also be registered in Employ Florida. Individuals needing assistance with registering for this event or creating their Employ Florida account are encouraged to contact CareerSource Polk at 863-508-1100.
To learn more about CareerSource Polk and the complementary services it provides for both job seekers and employers, visit www.careersourcepolk.com.
About CareerSource Polk
CareerSource Polk is a private, non-profit administrator of workforce funds. Its mission is to be the innovative leader to ensure and sustain a quality workforce for today and the future. For more information, visit careersourcepolk.com. CareerSource Polk is an equal opportunity employer/program. Auxiliary aids and services are available upon request to individuals with disabilities. All voice telephone numbers on this document may be reached by persons using TTY/TDD equipment via the Florida Relay Service at 711