SEU to Host 2021 Expressions Writing Conference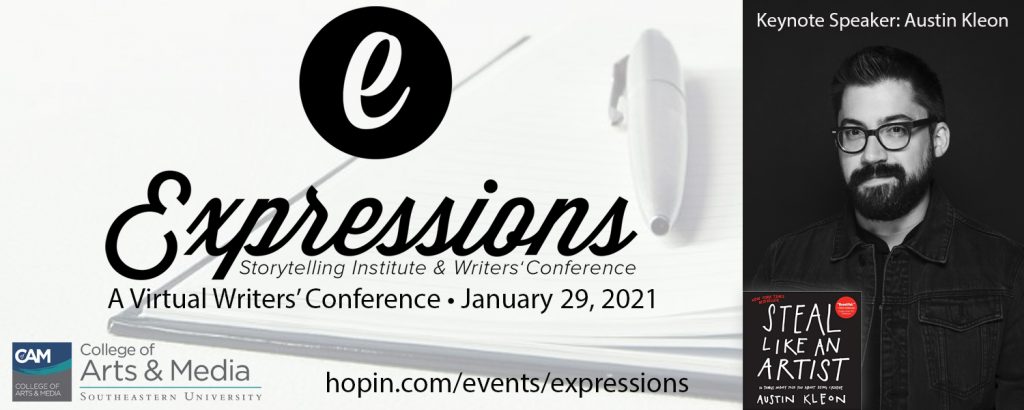 LAKELAND, Fla. – Southeastern University's College of Arts & Media will be hosting The Expressions Storytelling Institute and Writers' Conference virtually this year on Friday, January 29, 2021, from 9 a.m. to 4 p.m. The conference will feature New York Times best-selling author Austin Kleon as the keynote speaker. 
"For the first time since its inception, Expressions Conference will be held in a virtual format, allowing for the opportunity to reach a wider audience with the thought-provoking sessions we have planned," said Dr. Rustin Lloyd, chair of the Humanities Department at SEU.
There will be a total of five sessions covering the topics of integrated creativity, storytelling, writing, and social media branding. The day will begin with Kleon's mainstage presentation, followed by an interactive roundtable discussion where participants are invited to ask questions and take equal part in the conversation. Kleon will be speaking on the creative spirit and its connection to all aspects of life.
Kleon is a writer, artist, speaker and New York Times best-selling author, known for his book, "Steal Like an Artist." His work has been featured on NPR's Morning Edition, PBS Newshour, TIME, The Atlantic, Forbes and The Wall Street Journal.
The remaining sessions will be hosted by skilled marketing and communication expert Maddy Rain Townsend and Southeastern alumnae Charity Bell and Anastasia Jones. Townsend will present on the variety of ways writing can be utilized in the professional sphere. Bell will share about the impact of original stories and the many mediums and routes storytelling can take, and Jones will outline the best methods to creating unique social media content that stands out and makes a lasting impact.
"Expressions 2021 focuses on the business of being creative. My vision is to bring together speakers that live and work as creatives in and out of their day jobs," said Hannah Benefield, SEU professor and conference organizer.
Tickets for The Expressions Storytelling Institute and Writers' Conference are now on sale and range in price from $10 to $65. To register for the event and view ticket packages, please visit https://hopin.com/events/expressions.