PCPS Honors District 3's Finalists for Teacher and School-Related Employee of the Year
Another pair of surprise visits took place today, revealing our next finalists for the 2021 Teacher and School-Related Employee of the Year.
This month, Polk County Public Schools is making surprise stops at the schools of each finalist and thanking them for their dedicated service to our students.
Today, we recognized our finalists from District 3:
Shelly Devore — social studies teacher, Bartow High/International Baccalaureate/Summerlin Academy
Charles Luster — custodian, Union Academy
Brief profiles of these two finalists can be found below (see italics).
Please see the attached photos taken during today's surprise presentations. Additional photos are available upon request.
PCPS will continue to travel around the county unveiling the finalists from each of our seven districts. The overall winners will be announced during a special award ceremony in January.
This year, PCPS and the Polk Education Foundation have consulted with the Florida Department of Health in Polk County to develop a pandemic-safe version of the Teacher and School-Related Employee of the Year event. Click here for details.
The event will take place on Jan. 21 at 5:30 p.m. at the RP Funding Center's Lake Hollingsworth Room.
The event will be attended by less than 100 people; the guest list includes nominees and their plus-ones, their principals, school board members, event sponsors, the superintendent and deputy superintendent.
During the evening, nominees will be recognized with video tributes and sponsored gifts. The Teacher of the Year and School-Related Employee of the Year will receive a cash prize generously donated by MIDFLORIDA Credit Union.
Event sponsors include: Aramark, Boswell & Dunlap, Florida Blue, LEGOLAND, MIDFLORIDA Credit Union, Mosaic, Publix Super Markets Charities, Tampa Electric Company, and the Polk Education Association.
Finalist Profiles, District 3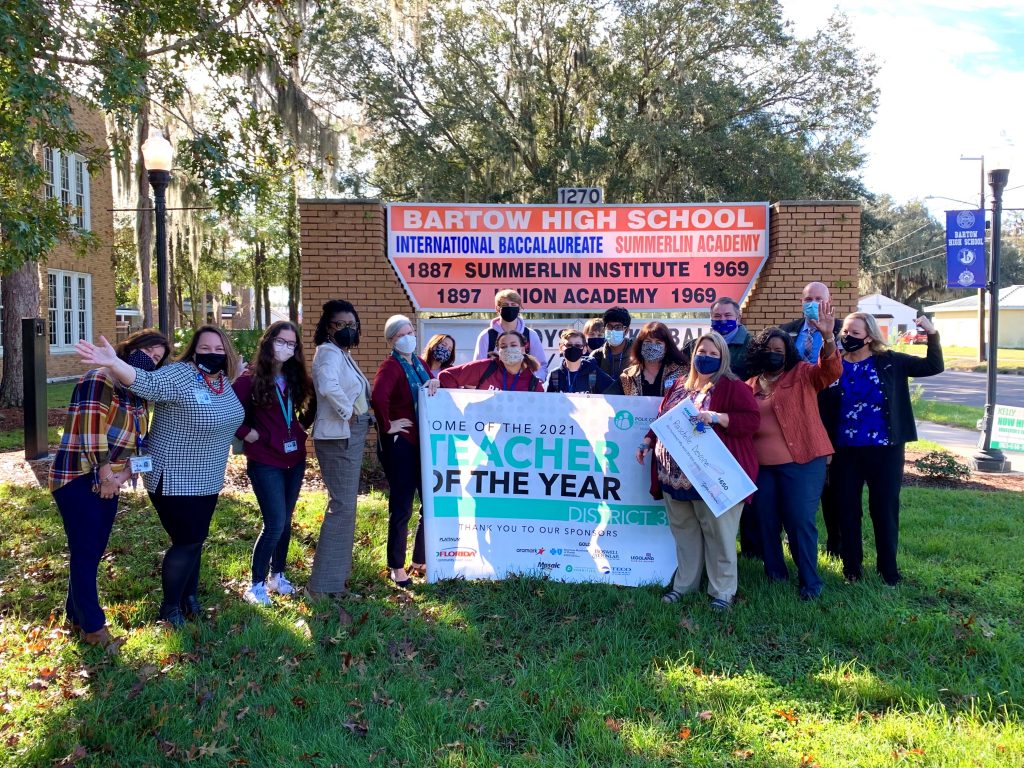 Shelly Devore — social studies teacher, Bartow High/International Baccalaureate/Summerlin Academy, District 3 finalist for Teacher of the Year
Devore, who has been a teacher for 25 years, said the dedication, courage, strength and creativity of teachers who unconditionally love their students can mold them into the leaders of tomorrow.
"Each student has touched my life in a special way, to bring me to the point where I have now taught children of my former students, and some former students are now co-workers," she said.
"Many have gone on to pursue degrees in economics, business, finance, politics, and law —allowing them to make a positive, lasting impact on the future of our nation," Devore added. "I look forward to the day when one of my former students makes it into government leadership in Washington D.C."
Devore is always willing to lend a hand with school events and activities, such as homecoming, class officer elections, and prom. She has served as voter registration drive coordinator, empowering students to become more engaged citizens. She mentors new teachers and even handles lesson planning for colleagues who are on leave.
This year, Devore jumped at the opportunity to develop an inquiry skills class for incoming freshmen. This class helps strengthen students' research, critical thinking, writing and time management skills, which will help them become self-sufficient adults in their post-secondary and career endeavors.
"There is no greater joy than seeing resilient students overcome challenges in order to thrive," Devore said. "Teachers provide the skills, motivation, and stability for students to reach their highest potential."
***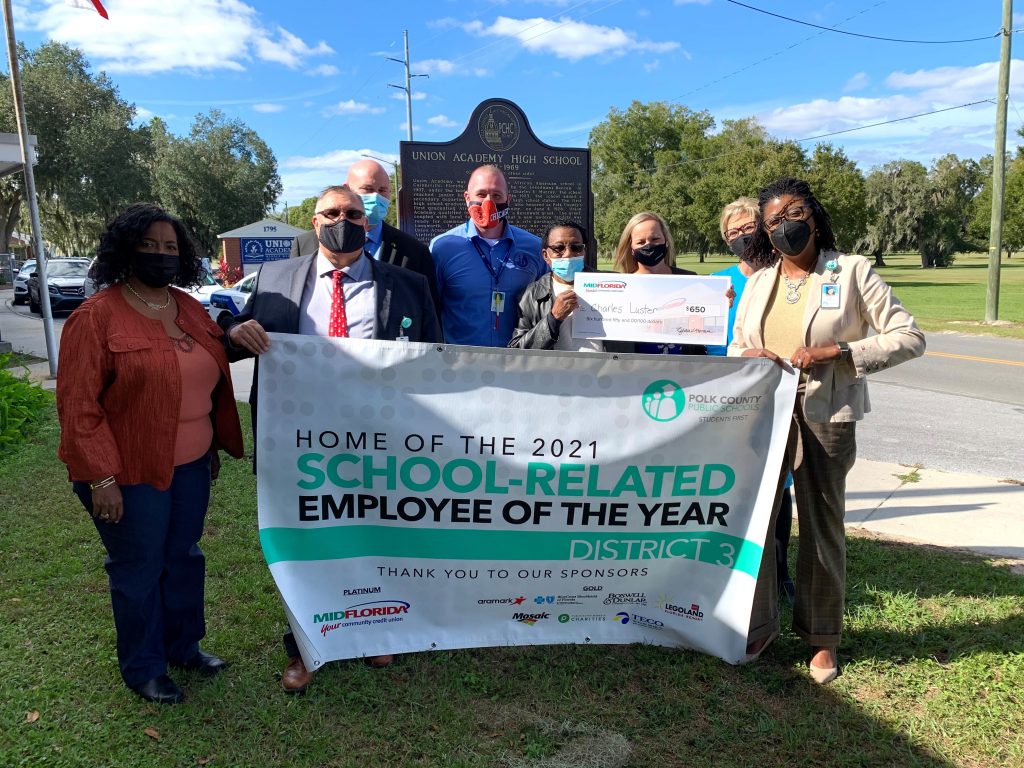 Charles Luster — custodian, Union Academy, District 3 finalist for School-Related Employee of the Year
Luster is more than an employee at Union Academy — he's part of the school's rich history!
For 53 years, Luster has worked as a custodian at Union Academy. Prior to that, he was a student at the school during segregation.
Luster lovingly cares for the school with ease and grace, despite the challenge of upkeeping an older campus. He is considered the "lifeblood and heartbeat" of Union Academy and is always willing to talk about the school's history.
As a recent guest on the People of PCPS podcast, Luster shared his memories of how the school and community has changed over the years, why he loves being part of Union Academy's family, and considers the school to be his home. Click here to watch.