Polk State College to Hold First Metallica Scholars Graduation Dec. 9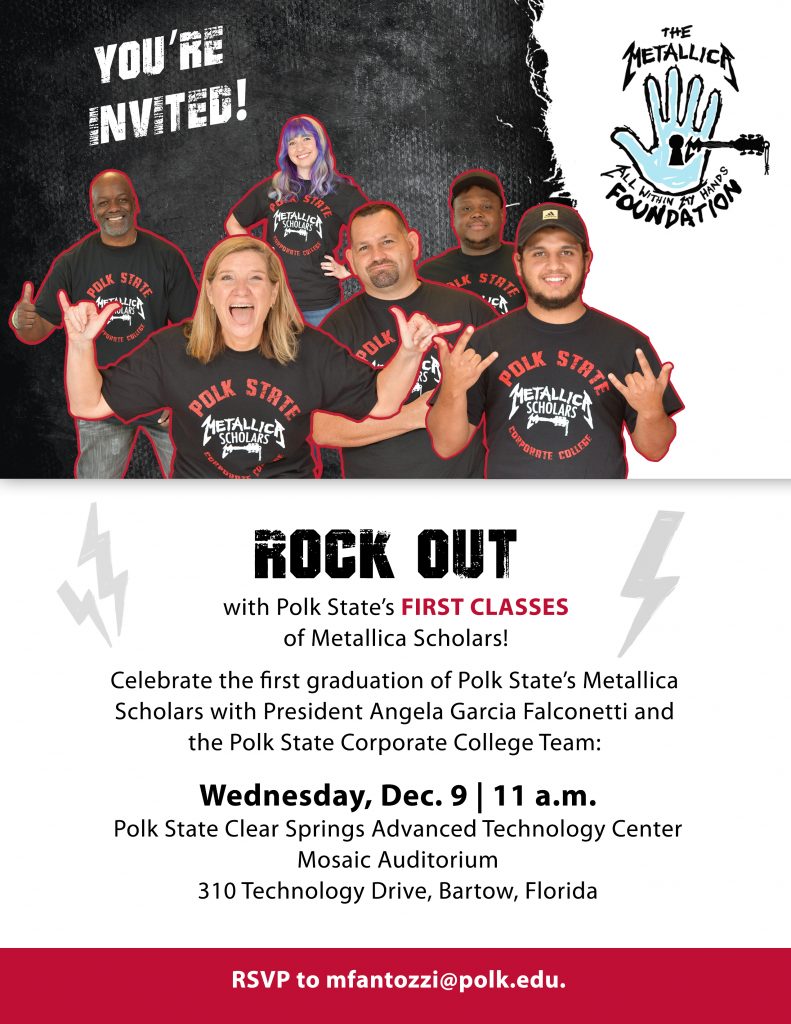 Wednesday, December 2, 2020 — Polk State College's first classes of Metallica Scholars will celebrate completion of the Computer Numeric Control (CNC) Machining Program on Dec. 9 thanks to scholarships from All Within My Hands as part of the Metallica Scholars Initiative. Members of the media are invited, tours of the CNC shop will be provided, and a media kit will be available after the event for those who are unable to attend.
Polk State Metallica Scholars Graduation
11 a.m. – Noon, Wednesday, Dec. 9, 2020
Polk State Clear Springs Advanced Technology Center
310 Technology Drive, Bartow, Florida
RSVP to Madison Fantozzi (mfantozzi@polk.edu)
Polk State is one of 15 schools across the nation to receive a $100,000 grant from All Within My Hands, a nonprofit organization founded by members of the band Metallica dedicated to creating sustainable communities by supporting workforce education, the fight against hunger, and critical local services.
In partnership with the American Association of Community Colleges, the initiative is providing direct support to Polk State's CNC Machining Program, including scholarships for unemployed and underemployed individuals to complete the eight-week training as well as funds for students to take exams for six National Institute for Metalworking Skills (NIMS) certifications that will qualify them for in-demand, high-wage careers.
In Polk County, machinists of all types are in high demand, with a 5.9 percent projected growth rate over the next five years. Nationally, the number of CNC machine tool operators is forecasted to increase 17 percent within that timeframe.
Polk State continues to enroll Metallica Scholars for sessions to begin Jan. 11, March 8, and May 17. Individuals who are interested in the program should contact Coordinator Jamie Rowan at jrowan@polk.edu or 863.837.5954. More information is available online at www.polk.edu/metallica.
About Polk State College
Located in Winter Haven, Florida, and established in 1964, Polk State College is a multi-campus institution serving more than 15,000 students with Bachelor of Applied Science, Bachelor of Science, Associate in Arts, and Associate in Science degrees, as well as 9,000 individuals through the Polk State Corporate College with a wide range of certificate and workforce training options. The College also operates three charter high schools.
Polk State's advantages include small class sizes; hands-on learning; dedicated faculty; day and night classes; online options; affordable tuition; excellent financial aid; and a diverse community and vibrant student life, including fine arts opportunities, clubs, and intercollegiate athletics. Visit www.polk.edu for more.
About All Within My Hands
AWMH is a non-profit, philanthropic organization created by the members and management of Metallica dedicated to creating sustainable communities by supporting workforce education, the fight against hunger, and other critical local services. 100% of donations go directly to local organizations that the Foundation supports. Please visit: AllWithinMyHands.org for more information.
About American Association of Community Colleges
As the voice of the nation's community colleges, the American Association of Community Colleges (AACC), delivers educational and economic opportunity for nearly 12 million diverse students in search of the American Dream. Uniquely dedicated to access and success for all students, AACC's more than 1,000 member colleges provide an on-ramp to degree attainment, skilled careers and family-supporting wages. Located in Washington, D.C., AACC advocates for these not-for-profit, public-serving institutions to ensure they have the resources and support they need to deliver on the mission of increasing economic mobility for all.