PCPS Celebrates District 1's Finalists for Teacher and School-Related Employee of the Year
Polk County Public Schools is throwing surprise celebrations throughout this month to recognize each of our finalists for the 2021 Teacher and School-Related Employee of the Year.
Today, we honored our finalists from District 1:
Maude Graham — third grade teacher, Rosabelle W. Blake Academy
Lisa Gill — paraeducator, Jesse Keen Elementary
Brief profiles of these two finalists can be found below (see italics).
Please see the attached photos taken during today's surprise presentations. Additional photos are available upon request.
PCPS will continue to travel around the county unveiling the finalists from each of our seven districts in the weeks to come. The overall winners will be announced next month during a special award ceremony.
This year, PCPS and the Polk Education Foundation have consulted with the Florida Department of Health in Polk County to develop a pandemic-safe version of the Teacher and School-Related Employee of the Year event. Click here for details.
The event will take place on Jan. 21 at 5:30 p.m. at the RP Funding Center's Lake Hollingsworth Room.
The event will be attended by less than 100 people; the guest list includes nominees and their plus-ones, their principals, school board members, event sponsors, the superintendent and deputy superintendent.
During the evening, nominees will be recognized with video tributes and sponsored gifts. The Teacher of the Year and School-Related Employee of the Year will receive a cash prize generously donated by MIDFLORIDA Credit Union.
Event sponsors include: Aramark, Boswell & Dunlap, Florida Blue, LEGOLAND, MIDFLORIDA Credit Union, Mosaic, Publix Super Markets Charities, Tampa Electric Company, and the Polk Education Association.
Finalist Profiles, District 1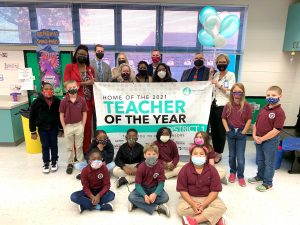 Maude Graham — third grade teacher, Rosabelle W. Blake Academy, District 1 finalist for Teacher of the Year
Graham teaches English language arts and social studies at Rosabelle W. Blake Academy in Lakeland. She became an orphan at a young age, with both of her parents passing away by the time she was 9. She struggled in school with reading, but she felt a desire to pursue a career as a teacher.
"I learned that teachers were progressing me, because I was young and fragile, wide-eyed, eager to learn, and very obedient," Graham said. "Knowing this, I always wanted to become the teacher who taught students who struggled as I had. I always dreamt of teaching students reading strategies, no matter the circumstances that stood in their way."
Graham, who has served in the Army National Guard, credits her military service with providing her valuable skills for becoming a teacher.
Her students learn through hands-on reading and writing activities, scavenger hunts, rope climbing excursions, and other engaging lessons. She shares her life story with various groups, serves as a mentor, organizes parent/teacher events, and spearheads a leadership program for third- through fifth-graders called "Leader in Me."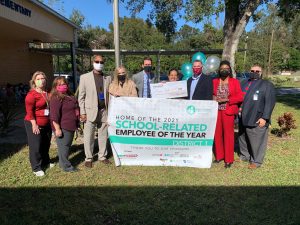 Lisa Gill — paraeducator, Jesse Keen Elementary, District 1 finalist for School-Related Employee of the Year
Gill is a paraeducator who coordinates many parent involvement activities at Jesse Keen Elementary in Lakeland. She is known for making home visits whenever necessary and oversees the school's weekend backpack distribution program to make sure students have enough to eat.
No matter what crisis is taking place, Gill is ready to act. Following Hurricane Irma, she worked with a local church to create a food and supply bank at the school. She also helped arrange housing through local agencies for families whose homes were damaged during the storm.
Throughout the COVID-19 pandemic, Gill has offered to help wherever she is needed, such as organizing her school's device distribution program, so students could get internet-accessible devices for online learning.