Lakeland Magic Hosts Virtual Events to Benefit Community

Fill the Bowl Virtual Sellout Campaign (NOW until Nov 30)

The Lakeland Magic are fighting to combat hunger and need your help. Please help us Fill the Bowl with our Virtual Sellout campaign, benefiting One More Child, kidsPACK and Feeding Tampa Bay. With each virtual ticket you purchase, you will receive one complimentary ticket voucher to a future Lakeland Magic regular season home game.* All proceeds will be donated to these wonderful organizations. To contribute and help us in the fight against hunger, visit this link to purchase your ticket today: https://lakeland.gleague.nba.com/fillthebowl/. Please share with friends, family, coworkers and anyone else who can make a difference in our community!

*Please note, voucher is redeemable with purchase of one or more ticket(s) of equal or greater value. Additionally, service fees for this donation are added by Fevo and Tickets.com.
Thanks,"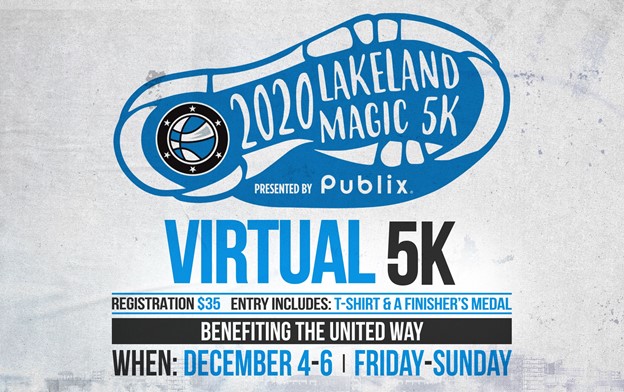 Lakeland Magic Virtual 5K (Dec 4-6)

Health and fitness is one of the cornerstone pillars for the Lakeland Magic and we want to make sure your group is able to be as active as possible during these times. We are proud to announce our Magic 5K will be virtual this year from December 4-6. Proceeds will benefit United Way of Central Florida and all participants will receive an exclusive 2020 Lakeland Magic 5K finishers medal and official T-shirt. Registration for the event can be found here: www.lakelandmagic.com/5k.

To verify distance, email us a screenshot or photo from your preferred running app or pedometer to entertainment@lakelandmagic.com. Upon competition of the run, 5K medals and t-shirts will be shipped to participants. If you have any questions, please feel free to reach out.