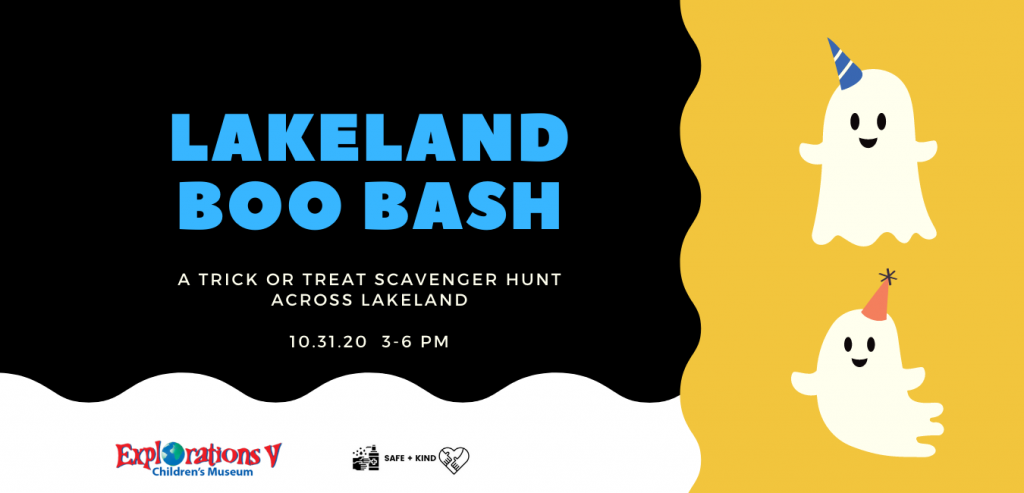 Explorations V Children's Museum is bringing Boo Bash to you! For years, little super heroes and chefs have come to the Museum for a safe and kid-friendly Halloween event. The Museum's professional trick-or-treaters want to bring a twist to our annual event to keep the fun going in 2020.
Everyone is invited to the trick-or-treat scavenger hunt.
Local businesses can now sign up as a trick-or-treat spot. All participating businesses will be put on a map and distributed electronically to families by Explorations V Children's Museum and event partners.
Each trick-or-treat spot will be staffed with a volunteer or a business representative who will wear mask and gloves. The driver can choose a low contact trick-or-treat by signaling with a honk and the volunteer will deliver the treat to the window.
Date: October 31, 2020
Time: 3-6 pm
Explorations V Children's Museum's will provide these treats to participating businesses:
To promote the map to families and encourage participation
To distribute the map to the Museum's email list
To help in recruiting businesses to participate
To assign a volunteer to each site as requested
Participating Businesses' will provide these treats to the community:
Fill out the form to commit to the process
Allow the volunteer to be present at your facility which includes access to water and restrooms
Provide the candy/giveaways for your trick-or-treat stop
Participation is FREE! All the business has to do is provide the candy or giveaways for your stop. To sign up your business, simply fill out the form at this link!