Achievement Academy Board Announces New Officers, Directors
LAKELAND, FL (August 31, 2020) The Achievement Academy Board of Directors has elected a new slate of Officers and added two new Directors for the 2020-21 school year.
Luke Markham was elected President. Markham is an attorney with Johnson, Pope, Bokor, Ruppel & Burns, LLP. His area of law is in complex commercial real estate transactions, where he has more than 20 years of experience. This includes representing homebuilders, condominium and homeowners associations, Landlord/Tenant work for a national restaurant chain, representation of private equity lenders, borrower representation for Fannie Mae and Freddie Mac financing transactions and acquisition and disposition of multi-family housing and fractured condominiums.
"I'm honored to serve as Board President for such a tremendous organization that serves the special needs of children and families throughout Polk County," Markham said. "We have such a great team at Achievement Academy – board, staff and most importantly, our children and families. I'm excited to see this organization continue to meet an expanding need in such a positive and impactful manner."
Markham succeeds Chandra Frederick, who served as Board President for the preceding two years. Frederick is the Assistant County Manager overseeing the Planning and Development Divisions at the Polk County Board of County Commissioners. She has worked for the county for 13 years, previously as director of the Building Division, which oversees construction permitting, and as director of the Land Development
Division, which oversees Polk's comprehensive plan and administers land development regulations.
Mike Brossart, Finance Director for the City of Lakeland, was elected First Vice President; Trish Buchanan, Administrative Supervisor with Publix Super Markets, Second Vice President; Karli Hughes, Selection Specialist with Joe Goldsmith Construction, Secretary; Elizabeth Kerns, Principal, Elan Advisory, LLC, Treasurer; and Chandra Frederick, Immediate Past President.
The Achievement Academy Board also welcomed two new members: Matt Hinton and Danease Horne. Hinton is a certified Project Management Professional (PMP), Professional in Human Resources (PHR) and Agile Development Scrum Master (CSM) at PalletOne, Inc., in Bartow. Over the past seven years, he has worked in HR, Recruiting and, most recently, IT Project Management.
Horne is Vice President at Horne Construction in Winter Haven. She has been involved with customer service for more than 20 years. In 2001, Horne and her husband, Jay, opened Horne Construction and she has remained with the firm since that time. Her responsibilities include oversight of Accounts Payable, Accounts Receivable and Human Resources.
The full slate of Officers and Directors includes:
President – Luke Markham, Johnson, Pope Bokor, Ruppel & Burns, LLP
First Vice President – Mike Brossart, City of Lakeland
Second Vice President – Trish Buchanan, Publix Super Markets, Inc.
Secretary – Karli Hughes, Joe Goldsmith Construction
Treasurer – Elizabeth Kerns, Elan Advisory, LLC
Immediate Past President – Chandra Frederick, Polk Board of County Commissioners (BOCC)

Board Members:
Stephanie Colon, Prime Meridian Bank
Melissa Devlin, Walt Disney Company
Steve Earley, Mosaic (Ret.)
Jill Haladay, Lakeland Regional Health
Matt Hinton, PalletOne
Danease Horne, Horne Construction
Janice Jones, CliftonLarsonAllen LLP
Adil Khan, Lakeland Surgical & Diagnostic Center
Michael Peeples, LM Properties
John Weber, Crowe LLP
Jason Welling, Artistic General Contracting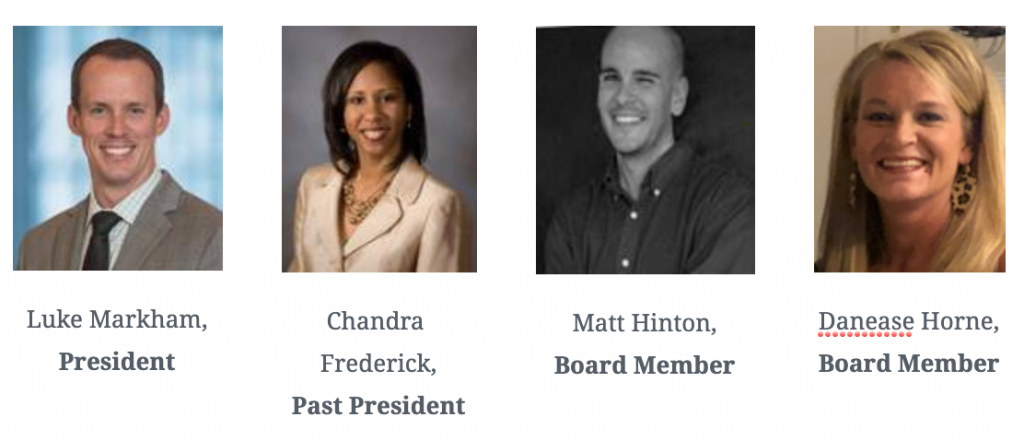 ---
About the Achievement Academy
The Achievement Academy serves children from birth through age five with various developmental delays and disabilities. The Achievement Academy offers two programs, each provided at no cost to the child or family. The first program is a Charter School that offers specialized instruction by certified teachers; small class sizes; individual speech, occupational and physical therapies; and assistive technologies that enable each student to reach his or her full potential at one of the Achievement Academy's three campus locations (Lakeland, Winter Haven and Bartow). The second is a Birth to Three Program that provides early intervention services to infants and toddlers who are "at-risk" for developmental delays and/or have been identified with a specific delay. Professional Early Interventionists serve these children and their families.