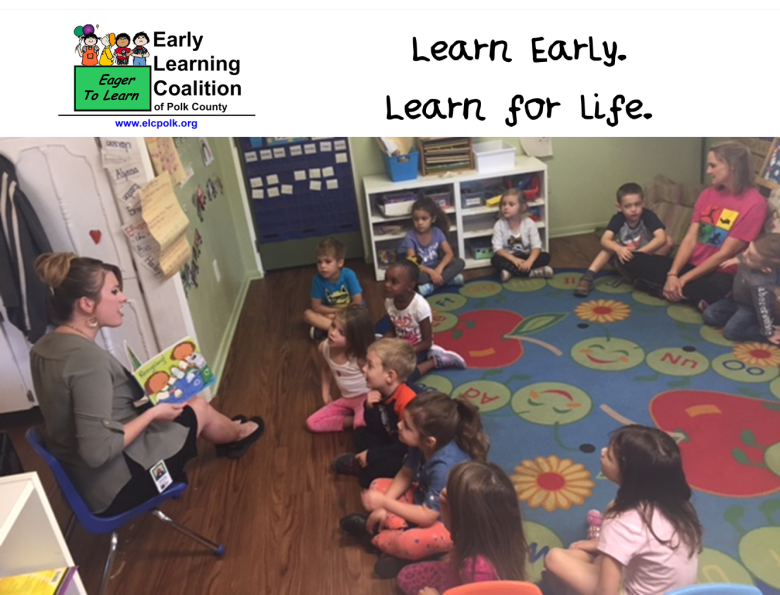 March 2017 Common Grounds Winner goes to Early Learning Coalition of Polk County
The Early Learning Coalition of Polk County is a local non-profit organization dedicated to the mission of insuring that children enter school ready and eager for life-long learning. Our focus is to serve children from birth to age 5, but services are provided to children up to 13 years of age through two primary programs. Under the authority of Florida Statute and the guidance of the Office of Early Learning and Department of Education, the ELC locally administers Florida's School Readiness (SR) and Voluntary Prekindergarten (VPK) programs. Through these programs the ELC provides services to over 12,500 children in Polk County each year.

The School Readiness program provides child care subsidies and quality early education to low income families, as well as those at risk of abuse, neglect, or abandonment, and children with disabilities. The program offers these children high quality early education and care at one of the ELC's more than 300 contracted child care providers throughout the County including private facilities and school sites. These providers are carefully monitored to ensure the children receive care in a healthy environment with approved curriculum. These providers receive technical assistance and guidance from the ELC to support continued improvement.

The VPK program is free to all 4 year olds living in Florida. The VPK program gives children a chance to prepare for the educational path ahead by making sure they enter kindergarten ready to learn. Parents have the choice of a 540-hour program during the school year or a 300-hour program during the summer. As with the SR program, the ELC is responsible for the implementation, administration, and oversight of the VPK program.

The impact of the ELC goes far beyond providing child care services. There is a distinct economic impact as well since the parents are able to continue to work helping them achieve economic self-sufficiency. Additionally, the programs bring additional state funding to the County through matched donations. Also, the children served have a higher chance of success in school and in life.

On an average day, nearly 1,900 children are served by the ELC; however, there are more than 1,200 children waiting for services at any given time in the year. For information about how you can support the early education of the children in our community visit www.elcpolk.org.
December 2016 Common Grounds Winner goes to Bob Read of LegalShield!
Hello Chamber

Thanks for the opportunity to communicate with you through the Chamber Common Grounds Program. I have been a LegalShield Associate since 2001, long time Chamber Member and currently Chamber Champion of the Year for this past year. As part of LegalShield, we have a vision, a mission, and values.

Our Vision - To provide equal access to the Liberty, Equality, Opportunity, and Justice, that every North American deserves and expects.

Our Mission - To help people improve their lives by teaching life-transforming skills and To deliver exceptional products and services that promote peace of mind and confidence in a world that is oftentimes uncaring and selfish.

Our Values - We believe in the good of all people. We do the right thing when no one is looking. We give clarity to everyone's purpose to do the things they love to do and not what they have to do. We empower people's passion.

LegalShield believes everyone deserves legal protection. And for over 40 years LegalShield has been providing members with affordable attorney access. As a member, you can pick up the phone and get help with whatever personal legal issue you are facing. From real estate to traffic tickets, warranty disputes to being sued and even identity theft and beyond, you'll have an experienced lawyer on your side, all for one low monthly fee.

For an in-depth view of the services and coverage we provide and the different divisions of the company, please visit my web site, www.legalshield.com/hub/bobread I am always willing to meet with you.

Regards,
Bob Read
LegalShield Associate.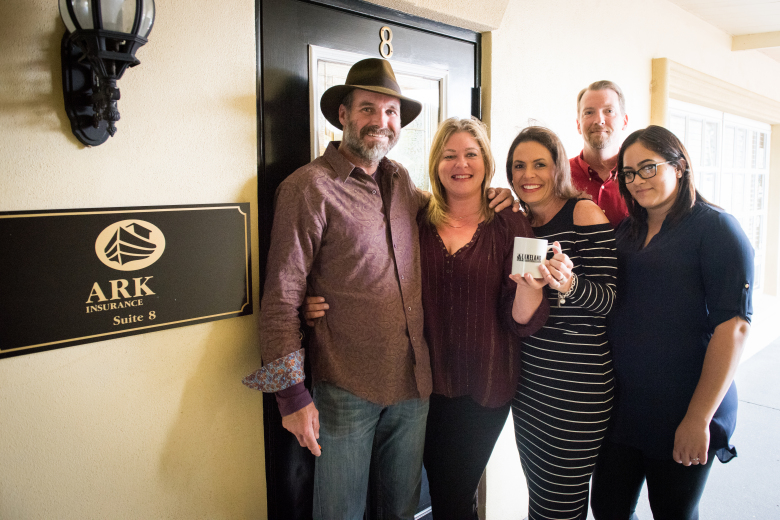 November 2016 Common Grounds Winner goes to ARK Insurance!

The turn of the key in the door, the whiff of coffee swirls through the air while the clicking of keyboards and chatter drift lightly through the office. All these sounds and smells jumbled together signifies that another awesome day at ARK Insurance Solutions has begun.

ARK Insurance is a small insurance agency with a GIANT heart. Our passion is taking care of our customers and giving them a personal touch that is rare to find in this current day and age. We strive to provide excellent customer service that will leave you with warm feeling and even possibly a smile!

We also have an experienced and knowledgeable sales team to make sure our customers are given all the choices we have available and look to personalize the policy to our customer needs. Our insurance specialists are here to answer all of your questions and work with you to provide the best experience around.

Whether you are looking for home, auto, flood, commercial or other types of insurance we will go above and beyond to make sure we provide you the best coverage for the best value. And anytime you hear the ringing of the bell you know that another member has been added to the ARK family and the office erupts with excitement.

The most important decision in buying an insurance policy is the selection of your insurance agent. The knowledge and expertise of your agent can make or break you at the time of a claim. The only correct way to shop for insurance is to shop for the agent with the best expertise and then let that agent shop the right coverage for you.

While we write and service insurance for the entire state of Florida we are proud to call Lakeland our home. Lakeland is such a wonderful place to start a business, raise your children and grow personally and professionally. We are proud to be part of the Lakeland Chamber and look forward to continuing and growing with the community.

We are not just ARK Insurance Solutions, we are the ARK Insurance Family!!!
October 2016 Common Grounds Winner goes to AC4S Technologies

Do you worry about your IT Network? Has this been a nagging issue in the back of your head? What's all this stuff about Cyber Security? Could one of your employees possibly shut you down? Is your network running slow? Is it time for an upgrade? What is this Cloud thing all about?

We can help you answer these questions and more because we have done this for organizations, large and small, and with the United States Government at the highest levels. AC4S Technologies was built to help businesses tackle these problems and harness the power of Information Technology to save money, become more efficient and grow your business.

As a Microsoft Partner helping organizations make the move to the Cloud, our customers kept asking for more . As we began to speak more intimately with our customers and the business community as a whole, we discovered that most organizations were looking for a true "Partner" in technology. We have steadily added a variety of Products and Services including Managed Services, Cyber Security, and Hybrid Cloud Solutions.

Our Managed Services platform provides a proactive approach to keeping your business up and running, while helping you focus on growing your company versus worrying about your technology. Our Help Desk is managed by local technicians, that are always available to help solve your IT problems in a timely manner. Additionally, choosing us as your Managed Services Provider allows you to accurately budget your IT spend while augmenting your staff and freeing up your resources.

Our approach is not just about software or a set of tools; it's understanding our customers' business drivers and requirements, and then delivering a strategic plan vital for our customers' success. Plainly put, we are not just a vendor or supplier, we are your Technology Partner.

As a valued partner of the Lakeland Community, we would like to extend a free IT and Security Assessment to your organization, and additionally offer a Referral incentive for any new customers you send our way.

September 2016 Common Grounds Winner goes to Monica Young of The Mortgage Firm!

Growing up in the "Banking World", I am all too familiar with the benefits of being a member of our local Chamber of Commerce. I am honored to have won this opportunity to present The Mortgage Firm to my community. The downtown Lakeland office, managed by Robby Sampson, brings a concierge feel to the mortgage process. The Mortgage Firm has been providing quality real estate financing since 1995. The same 3 individuals, with a passion for going above and beyond on each transaction, continue to lead our team and serving the lending needs of real estate professionals and individual homebuyers. We are headquartered in Orlando, Florida. All of our lenders are licensed professionals who offer expertise in every area of mortgage lending: Conventional, FHA, VA and USDA. We are dedicated to find the right loan with the best rate, terms and cost to meet your unique needs. But that's just the beginning. Throughout the lending process, our talented staff will provide regular updates and progress reports so you know exactly where you stand, in person or online.

Fun fact about me, my family and I had the opportunity to live a number of years in Cody, Wyoming. That experience has led to my obsession with the outdoors. Today, our family enjoys every aspect of camping, but especially the kind that provides air-conditioner and some sort of comfortable sleeping arrangement. When not camping, you will find me at Schalamar Creek Riding Stables honing in on my passion for horses and jumping. I will be that person you will see asking for a horse-back ride as a 90th birthday present. Thank you for taking the time out of your schedule to read this. I hope you too take advantage of our local Chamber and the services it provides to its members. Now go make your life great!
May 2016 Common Grounds Winner goes to Pilot Bank!

Pilot Bank is a full service bank providing retail, commercial, and investment services to individuals, businesses, and institutions in the greater Tampa Bay and Lakeland, Florida areas. Chartered by the state of Florida in 1987. The Lakeland Financial Center opened for business in 2007.

Our team has many years' experience: Penny Bailey 18 years, John Zmijski 5 years, Scott Katz 30 years, Allyson Hyndman 20 years, Daissy Holt 10 years. Our passion is to help clients with their banking needs as well as taking the time to build a good relationship with them. We visit our existing business clients monthly with lunch, cookies or donuts and spend time getting to know their business and how we can help them to grow. Pilot Bank also provides aircraft financing through its affiliate, National Aircraft Finance Company which is located at the Lakeland Airport.

Promoting Pilot Bank within the community is a big part of our everyday life. We attend many networking events as well as serve on a number of Boards. We are proud to say that we have been successful with building our book of business. Pilot bank believes in giving back to the community, we recently hosted a fun day at the Florida Baptist Children's Home here in Lakeland; it was so rewarding to see the children's faces light up. We had an ice cream social, water slides (donated by Backyard Bouncerooz) as well as painting pillow cases.

Pilot Bank is defined by its passion for service. It is our duty and privilege to serve.
April 2016 Common Grounds Winner goes to One Blood!

For more information about becoming a blood donor or sponsoring a blood drive on the Big Red Bus, please visit us at OneBlood.org or call us at 1.888.9DONATE (1.888.936.6283)

Here is the story of a local boy that blood donors continue to be a part of. Five year old Logan Hooker was born at Lakeland Regional Medical Center and received his first blood transfusion within eight hours of birth, as he was airlifted to Tampa General Hospital. He has needed additional ones, usually given at St. Joseph's Children's Hospital, at regular intervals ever since. Two years ago, Logan was finally diagnosed with a rare blood disorder, Pyruvate Kinease Deficiency or Chronic Anemia. He attends preschool at South McKeel Academy in Lakeland and loves playing with his brothers Ashton and Dayton.

His mother Amanda is one of his biggest cheerleaders. She gives blood regularly and also sponsors blood drives to help more patients. Her next blood drive in honor of Logan will be on Tuesday, May 10 from 2 p.m. to 7:30 p.m. at Carrabba's Italian Grille, located at 4829 South Florida Avenue in Lakeland. The public is invited to attend.
March 2016 Common Grounds Winner goes to Fifth Third Bank!

Fifth third Bancorp is a diversified financial services company headquartered in Cincinnati, Ohio.

The Company has $141 billion in assets and operates 1254 full-service Banking Centers, including 95 Bank Mart locations. Since 1858, Fifth Third Bank has a proud history of supporting our community and believes that a strong bank helps build a better community. Giving back to the community helps drive economic, business and philanthropic growth. By lending time and expertise to local non-profits and organizations employees help to keep our communities healthy and vibrant.

Since 1858, Fifth Third Bank has been helping to improve the well-being of individuals, families, businesses and communities. In addition to providing financial products and services, Fifth Third has lived its commitment to earn trust and build value.

We know that lives are improved if individuals are provided the tools and resources to make sound financial decisions. This is why we have developed a number of financial empowerment seminars and resources that we deploy throughout our footprint. Examples include budgeting and savings, building your credit, home buying, etc.

We have brought this education to community residents and the students to make sure they have every opportunity to be successful. We have a great mobile banking offer that we are sharing with the community as well

To support your small businesses, we will soon be offering a cash bonus promotion to new business checking account customers! Any new business checking account opened between April 11 and June 17 will be eligible for a $400 cash bonus with qualifying activity completed within 60 days of account opening! Visit 53.com or stop by any Fifth Third Bank location for details.






February 2016 Common Grounds Winner goes to Tony Valenti of Valenti Consulting, LLC, Home Inspection!

Hello from Valenti Consulting, LLC, Home Inspection!
Having always been an early bird, the day starts early. I am one of those, that if I wake and see daylight, I'm wasting time! As a man of faith, my day always starts with reflection, meditation in the Word, and quiet time in devotion.
The coffee is on and I'm ready to roll! Rain, shine, cool, or Florida summer, I'm off to inspect someone's piece of the American dream, and I take that very seriously. As a proponent of excellent customer service, a hand shake and warm smile greets every client and realtor at the property site. A walk through of the property, noting any concerns the client may have before the inspection, is the norm. I provide cold drinks for all and we're ready to get started!
At VCHI, that means starting at the top. From the roof, the attic beneath, living areas, porches, and even the crawl space, no area goes unchecked. Employing the latest technology hand-held software, and using several "gadgets" for measuring and testing, the result is a visual inspection of all readily accessible components of house, pool, and often out-structures. In addition to full home inspections, 4-Point and Wind Mitigation inspections are usually needed for insurance purposes. As we progress through each, I am happy to answer questions, and explain what they will see on the reports. If a client needs all of these reports, and perhaps a pool too, the on-site inspection process often takes 3-4 hours.
The ladders are packed, and we're on the to the next. But the job doesn't end there. Back at the office, it's time for reports. Every line of the inspections are gone over for accuracy, pictures added, comments and recommendations made. Both clients and realtors benefit by the added experience and knowledge of my being in home building and related industries for over 31 years! My clients receive their full inspection reports that evening, secondary reports within 24-48 hours.
Oh, and did I mention answering the phone all day?
Thanks for stopping by!
Tony Valenti

January 2016 Common Grounds Winner goes to Tina and Tim Calhoon of Frescos in Downtown Lakeland!

In May 2009 Executive Chef Tina Calhoon and husband Tim opened Frescos on South Kentucky Avenue in Downtown Lakeland with a vision for a small boutique breakfast and lunch restaurant and catering facility. Starting with a 1200 square foot store front and 3 employees, Frescos has doubled in size twice becomingLakeland's first Boutique Restaurant and Craft Bar. Three private rooms were added now encompassing nearly 10,000 square feet of the Carr Building. Frescos Catering has grown at the same pace as the restaurant now providing in-house and off site services for nearly any size and type of event

Chef Tina got her start in restaurants early and by the age of 22 had three operating restaurants in Downtown Little Rock, Arkansas. She found her love of food and began to develop the creative side that is reflected in the current menus at Frescos. Tina maintains her belief that the customer's culinary experience and satisfaction is the most important thing to her.

When it comes to handmade craft cocktails, Frescos is the go to place in Lakeland. Much time and effort was made in researching the spirits, cocktails and processes to make proper cocktails. Tim has discovered his passion for spirits and cocktail recipes in the process. Frescos strives to not only bring fresh recipes and broad selections but to provide the stories and history behind them.

In 2015, two additional concepts were opened. Frescos Café opened inside the Lakeland Auto Mall Ford Showroom offering breakfast and lunch for customers and staff. Frescos Whisky Green opened as a sports bar and astropub at the Cleveland Heights Golf course in October taking over all food, beverage and catering operations in the City owned building.

As long time residents, Tina and Tim are very proud to be part of the Lakeland Community. Both view Downtown Lakeland as the heart of the community and are staunch advocates for everything Downtown and the small businesses helping to revitalize and make Lakeland a success.