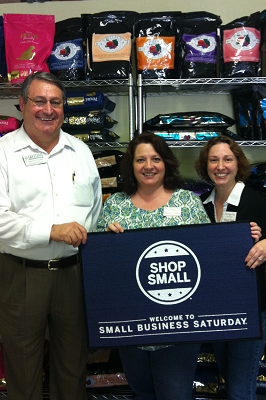 "Buy Lakeland" is a grassroots initiative of the Chamber that is open to anyone who believes in the benefit of spending money in the communities where he or she lives, works, goes to school, and plays.
You can make a real difference in maintaining your community's quality of life by making a conscience effort to "Buy Lakeland!"
Why Buy Local?


Stats from the Small Business Administration
There are 23 million small businesses in the country.
Small businesses have increased by 49% since 1982
54% of U.S. sales happen at small businesses.
Small businesses have created 8 million jobs since 1990.
Franchised small businesses employ roughly 8 million people, and make up 40 % of all American retail jobs.
Small Business Stats from Other Sources
Small businesses donate 250% more than larger businesses to non-profits and community causes (Source: Seattle Good Business Network).
If you spend $100 at a local business, roughly $68 stays in your local economy. If you spend the same are a large business, only $43 stays in the local economy (Source: Civic Economics Study in Grand Rapids, Michigan).
"It makes good cents!"
Note that we are not urging you to increase your spending, but rather redirect it to the businesses close to where you live, work and play.
Buying locally sustains the unique character and quality of life in Lakeland. Beyond the economic impact of your spending, buying locally supports the businesses that reinvest in your community's social and environmental well-being. Lakeland businesses give generously to area churches and non-profits and enhance the social welfare of friends and neighbors.
Dollars spent at a local business are reinvested in your community's employees through wages and reinvested in other organizations through the purchase of legal, accounting and other business services. And by purchasing from local businesses, you, and the goods you purchase, travel fewer miles, saving you time, gas money, and carbon emissions.
Remember, when you spend it here, you keep it here!
Find Local Businesses
Lakeland Area Chamber of Commerce business directory