April 2017 Winner, Burton's Lawn & Landscape, Inc.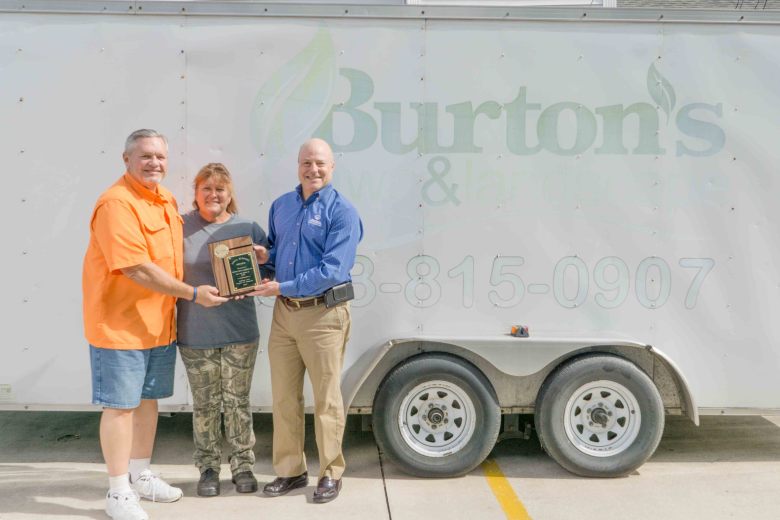 Rick and Andrea Burton
Burton's Lawn & Landscape, Inc.
PO Box 490
Kathleen, FL 33849
(863) 815-0907
Burton's Lawn & Landscape, Inc. is a local business owned and operated by Andrea [Andy] and Rick Burton. They have been in business for more than 10 years, and they are proud to call Lakeland home.
Andy was born and raised in Lakeland—and to be more precise—Galloway in N. Lakeland. She is a graduate of Kathleen Sr. High School, and has always worked around the Lakeland area, keeping her roots close to home! Rick teases Andy about knowing everyone in Lakeland, because no matter where they are, someone knows her.
Rick grew up in Tampa and is retired from The Tampa Police Department. During the last eight years of his career, one year was spent as a Homicide Detective. He is very proud of his career and of his brothers and sisters in law enforcement.
After his retirement, Rick came to the Lakeland area where he met the "love of my life," Andy. Andy and Rick started Burton's Lawn &Landscape, Inc. and in their opinion hired the best employees.
Their company is made up of their son Laramie Hubbard, their valued employee, [like a son] Chris Malone, and even Andy's mom, Lula Spivey. They are who they are because of them! Their other son, SSGT. [Ret.] Rick Burton Jr., is a Wounded Warrior who served in the United States Army in Iraq. Although he cannot work within the company, he supports his family 100 percent, and they are "very proud of him."
Andy and Rick set a goal to keep their company small enough to give their customers the best quality of care. Through their dedicated employees, they feel they have achieved their goal. They said, "We feel that if we lose sight of this standard, then we have let our customers down."
Rick, Andy, and their company are active members of the Lakeland Chamber of Commerce, the Wounded Warrior Project, and the Lakeland Elks Lodge #1291. Through these affiliations and numerous projects and charities they strive to give back to the community.
Burton's Lawn & Landscape, Inc. believes in the old fashioned values of working hard and giving their customers more than what they expect.
The Lakeland Chamber of Commerce would like to recognize Burton's Lawn & Landscape, Inc. for making a positive impact in our community and congratulate them as the Small Business Award winner for the month of April 2017.
Picture: SBA Committee Member, Bob Ettensohn (The Ettensohn Agency Inc.), presents the April 2017 Small Business of the Month Award to Rick & Andy Burton, Burton's Lawn & Landscape, Inc.
March 2017 Winner, Thorpe Heating & Cooling, Inc.
Joy Cheatham, Director of Client Relations
Thorpe Heating & Cooling, Inc.
8402 US Highway 98 N
Lakeland, FL 33809
(863) 858-2577
Since 1981, Thorpe Heating & Cooling, Inc. has provided dependable and affordable heating and cooling services throughout Polk County and the surrounding areas. They believe in making a difference in people's lives by making homes comfortable, healthy, and safe. They achieve this by simply putting "excellence in everything they do."
After serving his country in the U.S. Air Force, owner, Chuck Thorpe, started his heating and cooling empire with a desk and a phone book in his grandmother's garage and turned it into the family business it now stands to be with its committed employees and exceptional customer service. Shortly after Chuck's startup, Robin, his wife, joined the endeavor and years later their son, Josh, joined the family business. He's now the General Manager. For 36 years, Thorpe has upheld to these standards: honesty, integrity, accountability, respect for self and others, and working to always exceed the clients' expectations.
Thorpe Heating & Cooling is an active member of the Lakeland Chamber of Commerce, "BNI" Business Network International, "ABWA" American Business Women's Association, and "CWE" Christian Worldwide Evangelism. Thorpe sponsors local youth athletics, performing arts, community events, local and international missions, charity fundraisers, and food donation drives. Chuck Thorpe and his family are active members of their church.
Thanks to 36 years of committed personal service to its client base, Thorpe Heating & Cooling has established itself in our community as the premier source for heating and cooling services. One client said, "What sets Thorpe apart from the rest in the business is their level of expertise, quality of service and attention to detail. …Thorpe is a first class business that you can trust with peace of mind. We will always use Thorpe for all of our heating and cooling needs."
The Lakeland Chamber of Commerce would like to recognize Thorpe Heating & Cooling, Inc. for making a positive impact in our community and congratulate them as the Small Business Award winner for the month of March 2017.
Picture: Janice Tedder Jones (Chair, Lakeland Chamber Board of Directors) presents the March 2017 Small Business of the Month Award to Joy Cheatham, Director of Client Relations, Thorpe Heating & Cooling, Inc.
February 2017 Winner, All About Blinds, Inc.
Clipper Still
All About Blinds, Inc.
817 N Lake Parker Ave
Lakeland, FL 33801
(863) 682-0906
http://www.allaboutblindsinc.com
Since 1993, All About Blinds, Inc. has been serving the Lakeland area and surrounding regions in Central Florida. They specialize in custom made-to-measure window coverings manufactured in the U.S. and offer a complete line of window treatments along with the sale and installation of many different blinds, shades, and accessories.
From start to finish, personal service from the business owner, Clipper Still, distinguishes the customer service experience from most competitors. All About Blinds has been active in the retail consumer, commercial, and governmental markets. All About Blinds will assist in the selection process all the way through to the installation of selected blinds or shades. Many custom patterns, colors, and overall designs are offered to assure the proper fit for home, office, classroom, or other application.
All About Blinds is committed to the Lakeland area in their support of charities and nonprofits. VISTE, LVIM, Florida Sheriffs Youth Ranches, Lighthouse Ministries, Jaycees, Florida Baptist Children's Home, Boys and Girls Club, and the American Legion are some of the organizations that All About Blinds has helped in recent years. Clipper Still has been an active member of the Florida Southern College's Sixth Man Club for more than 20 years and was honored as the "Fan of the Year" for his hard work and dedication to the organization.
Thanks to the years of committed personal service to its client base, All About Blinds has established itself in our community as the premier source for custom window coverings.
The Lakeland Chamber of Commerce would like to recognize All About Blinds for making a positive impact to our community and congratulate them as the Small Business Award winner for the month of February 2017.
— Gary Cleveland
Picture: SBA Committee Member Gary Cleveland, (Rhoads/Stephens Real Estate Group / Keller Williams Realty - Lakeland), presents the February 2017 Small Business of the Month Award to Clipper and Terri Still.
January 2017 Winner, True MD
Dr. Adam Parker
Lisa Birket
True MD
3627 S Florida Ave
Lakeland, FL 33803
(863) 646-3376
http://www.true-md.com
True MD is a Lakeland cosmetic medical rejuvenation spa…where you exercise your right to feel better about yourself from head to toe! This amazing team of cosmetic experts strives to help you look as "beautiful outside as you are inside"…without surgery, stitches, or recovery healing time.
Helping you radiate your outer beauty as much as your inner beauty, True MD provides cosmetic procedures such as Botox & Filler Injections, Smart Lipo, Laser Hair Removal, Cool Sculpting, Strawberry Laser Body Sculpting & Skin Tightening, Removal of Fine Lines—and so much more—using the latest, most effective rejuvenation technology available nationwide. This FDA-approved technology, performed by trained, board-certified physicians using non-invasive methods, along with new product lines and affordable pricing, have propelled True MD to a top provider of these services in the Lakeland area since 2007.
A patient at True MD starts by undergoing a free/complimentary in-depth assessment by Adam Parker, D.O., a board certified physician or Cara Rand-Pricone, PA-C, and then a customized plan is established to solve each individuals' cosmetic needs.
"Here we try to make you look very natural," says Lisa Birket, practice manager and aesthetician, CCE, CME at True MD Medical Spa/Lakeland. "We also educate our clients on health and wellness, good skin care, and products that will make a difference. Our clients are like family to us and we want them to see us as lifetime friends."
Ms. Birket and her staff are extremely passionate about giving back to the Lakeland community. Volunteering time and talent has produced enormous success to such events as the annual Chamber CarBQ, Kids Pack fundraising committee, Rotary member events, Chamber Leads Group, Lakeland Business Leaders member and sponsor, ABWA member and sponsor, Chairman of the George Jenkins Medical Advisory Board for the Medical Academy, and past Board member for the SCHMR (Society of Clinical & Medical Hair Removal International.)
Located next to Gold's Gym on S. Florida Ave in Lakeland, True MD is truly devoted to helping you, or a loved one, feel better about yourself in a short time or a personally-paced, comfortable way.
The Lakeland Area Chamber of Commerce is proud to present True MD with the January 2017 Small Business of the Month award.
— Maureen Shaw
Picture: SBA Committee Member Maureen Shaw, (Flower Cart Florist), presents the January 2017 Small Business of the Month Award to Dr. Adam Parker and Lisa Birket.
December 2016 Winner, Santa Fe Animal Hospital
Marc Presnell
Santa Fe Animal Hospital
3107 US Highway 92 E
Lakeland, FL 33801
(863) 665-5033
Santa Fe Animal Hospital is a full-service, AAHA (American Animal Hospital Association) accredited veterinary medical facility. The professional and courteous staff at Santa Fe seeks to provide the best possible medical care, surgical care, and dental care for their highly-valued patients. They are committed to promoting responsible pet ownership, preventative healthcare, and health related educational opportunities for their clients. Santa Fe Animal Hospital strives to offer excellence in veterinary care to Lakeland and surrounding areas.
Dr. Marc Presnell, owner, purchased the business in 1996 from Dr. Dorsey Hightower, who started the clinic in 1972. The clinic itself is a modern brick building located on Highway 92 E, across from Santa Fe High School. The reception desk and waiting area is large and bright. It's divided in the middle where pets can wait segregated, if need be. There are four exam rooms, a treatment room, sterile surgical room, x-ray room, lab, three holding areas, as well as kennels for boarding and daycare services. The staff is always friendly and ready to offer words of encouragement for any situation.
Santa Fe has been an AAHA accredited hospital since 1996. Only about 12 to 15 percent of animal hospitals in the United States and Canada are accredited. Their Standards of Accreditation are continuously reviewed and updated to keep their accredited practices on the cutting edge of veterinary excellence. Their standards address patient care, pain management, surgery, pharmacy, laboratory, exam facilities, medical records, cleanliness, emergency services, dental care, diagnostic imaging, anesthesiology, and continuing education. To maintain accredited status, hospitals undergo comprehensive on-site evaluations every three years.
Their mission statement is "Santa Fe Animal Hospital will be a business dedicated to providing exemplary family practice veterinary medicine and patient care and client service as well as being committed to employee fulfillment; while maintaining honesty, integrity, profitability and community involvement.
Their vision statement is "Through education, example, and by providing medical and business excellence, Santa Fe Animal Hospital hopes to inspire our community to care for its pets as God intended."
Their core values are integrity, humility, service, and caring.
Locally, Dr. Presnell served as president of the Ridge Veterinary Society and is currently secretary. He is a representative for District 3 of the Florida Veterinary Association.
As well as being a member of the Chamber, Dr. Presnell is an active member of the Highlands Church of Christ, is involved with Parker Street Ministries, and assists with the Veterinary Academy at George Jenkins High School.
Santa Fe is a member of the Central Florida Academy of Veterinary Medicine which provides continuing education for doctors. The technicians receive continuing education through the AAHA and Veterinary Technician Programs at the University of Florida. Continuing education is also provided through FVMA.
The Lakeland Area Chamber of Commerce would like to congratulate Santa Fe Animal Hospital as the December 2016 Small Business of the Month Award winner.
— Jim Russell
Picture: SBA Committee Member, Jim Russell (Cement Products & Supply Co., Inc.), presents the December 2016 Small Business of the Month Award to Marc Presnell. Also pictured: Julia Jones, DVM, Cheyenne Shivers, Stephanie Bowes, DVM, Dorsey Hightower, DVM, Tekerah Ellington, Jennifer Pierdominici, and Linda Henderson.
November 2016 Winner, Ric's Wine Market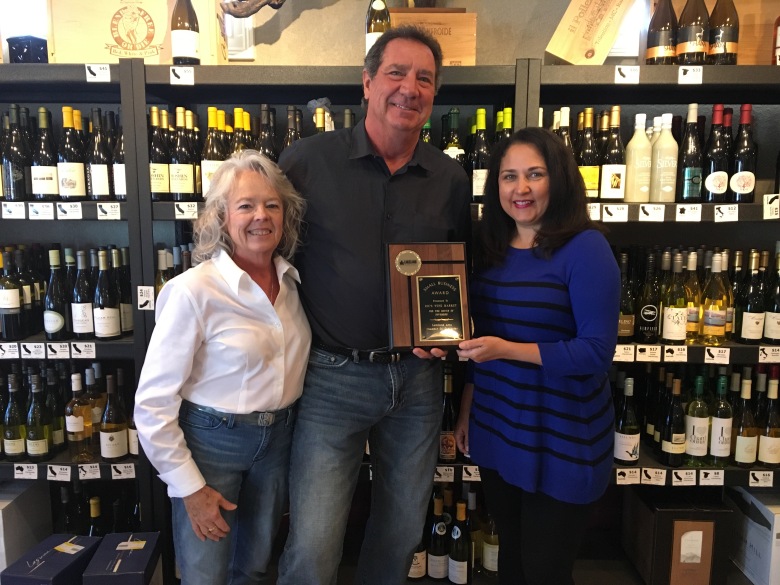 Ric Reed
Ric's Wine Market
4110 S Florida Ave, Suite 100
Lakeland, FL 33813
(863) 644-8181
Ric's Wine Market is a complete imported and domestic boutique retail wine market. Offering wine for all tastes and budgets, Ric's is the place to go if you want the perfect bottle. Knowledgeable staff provides one-on-one assistance to guide customers who may not be well versed in the selection of wine, pairings, etc. To that end, Ric's also offers tastings and educational sessions, both private and in group settings. Ric's wine club memberships are very popular among his regulars—members receive two bottles of wine and information about the wine/winery per month as well as special member discounts.
Ric's Wine Market is a very inviting and unintimidating boutique. Since 2012 they have occupied the space where Deli Delicacies used to be. The décor is beautiful! The walls were all painted by a local artist and the sheer number of bottles in the boutique all neatly displayed will leave you in awe. It is very patron-friendly and easy to navigate.
Whether you are choosing a bottle for a gift, celebration, or to pair with specific food, the staff at Ric's will always lead you to the right bottle! In addition to high-level service, Ric's provides ample opportunities to learn about and taste wines. One can even sample high-end wines from a state-of-the-art dispenser in the boutique.
Ric's biggest competitive threat is the fact that a bottle of wine can be purchased almost anywhere. To overcome that, Ric's makes wine selection personal and offers more than just the wine itself. Often you can find Ric chatting with customers while sipping on wine. His prices are competitive, the service is outstanding, and Ric's offers a wide selection of quality wines from boutique wineries from around the world.
Ric's Wine Market's mission is "To provide an interesting and comfortable place to enjoy the world of wine and to educate by sharing knowledge and experience." Ric is very invested in living his mission to the fullest. He studies wineries and their products, and even visits many, to be sure he is bringing the best quality home to his customers. Ric is well known and loved in the community. He is a member of the Lakeland Area Chamber of Commerce, and although having a retail establishment limits his ability to attend many events, he has participated in a number of Chamber events throughout the years including the annual Luau. Additionally, Ric is a member of the Society of Wine Educators and is in the process of getting his certification. Though limited in the amount of time Ric has to be out in the community, he supports the efforts of many organizations including multiple schools, SPCA, multiple church fundraisers, Alliance for Independence wine festival, and others.
The Lakeland Area Chamber of Commerce would like to congratulate Ric's Wine Market as the November 2016 Small Business of the Month Award winner.
— Liz Craven
Picture: SBA Committee Member Liz Craven, (Pro-Ad Media), presents the November 2016 Small Business of the Month Award to Ric and Sherry Reed.
October 2016 Winner, CED/Raybro Electric Supply
John A. McArdle
CED/Raybro Electric Supply
520 N Ingraham Ave
Lakeland, FL 33801
(863) 688-7951
CED/Raybro Electric Supply, an electrical wholesaler, has been at the same Lakeland location at 520 N Ingraham Ave for more than 60 years.
Employees combine their industry knowledge and inventory to offer electrical contractors comprehensive solutions for all electrical needs. Their goal is to help electrical contractors run their businesses as efficiently as possible, while lowering costs and improving the bottom line.
CED/Raybro is open 10 ½ hours a day, five days a week—and emergency service is always available. CED/Raybro is committed to having the best inventory in Polk County for their customers. Experience is the key to their success, and many staff members have more than 30 years in the business.
Every year, around Thanksgiving, CED/Raybro also hosts a customer appreciation luncheon where vendors and customers have the opportunity to come together to view new products, eat, and fellowship.
The Lakeland Area Chamber of Commerce would like to congratulate CED/Raybro Electric Supply as the October 2016 Small Business of the Month Award winner.
— Dianne W. Bishop
Picture: SBA Committee Member, Dianne W. Bishop (The Lighting Hut, Inc.), presents the October 2016 Small Business of the Month Award to John A. McArdle. Also pictured: Brian Corley, John Zimmerman, Richard Drake, Kris Welch, Patty Kardon, Diane Tillman, and John Adams.
September 2016 Winner, Midtown Dental Associates
Dr. William Nerestant
Midtown Dental Associates
607 S Missouri Ave
Lakeland, FL 33815
(863) 688-9001
Dr. William Nerestant and his professional staff of hygienists, assistants, and front office staff at Midtown Dental Associates—located in a modern and well-maintained office building at 607 S Missouri Ave in Lakeland—treat their family of patients with quality care on their journey toward "Excellent Oral Health" that addresses all facets of dental care including health, aesthetics, and self-esteem. They take pride in their tangible products and services that bring about many positive, life-changing results. In addition to the common menu of dental services, they offer advanced surgical procedures such as implants and conscious sedation.
Dr. Nerestant received the "Air Force Achievement Medal" for his outstanding services, and he is a member of multiple dental and education associations. Many staff members are certified through Scheduling Institute, which is the most recognized dental training service in the country. The office has been active in the community via the Lakeland Chamber of Commerce, Downtown Lakeland Partnership, and Lakeland Volunteers in Medicine. One day a year, Midtown provides free dental services to the local community, and Dr. Nerestant has regularly volunteered in places such as Jamaica, Haiti, and Cameroon on medical/dental missions. The Lakeland Area Chamber of Commerce would like to congratulate Midtown Dental Associates as the September 2016 Small Business of the Month Award winner. — Curt Wheeler
Picture: SBA Committee Member, Curt Wheeler (Wheeler Appraisals, LLC), presents the September 2016 Small Business of the Month Award to Dr. William Nerestant. Also pictured: Austin Taylor, Mel Muir, Kim Sheets, Brenda Byrd, and Leighanne Grenade.
August 2016 Winner, Wall Titus, LLC
H. Lee Wall and Robert L. Titus
Wall Titus, LLC
212 E Highland Dr, Ste 201
Lakeland, FL 33813
(863) 683-0708
Since their doors opened in 1986, Wall Titus, LLC has been dedicated to helping their clients identify and respond to a range of business and financial challenges. They have built a team of professionals that's truly unique. Though receiving a new name in 2013, their mission is still the same—to provide their clients with credibility, confidentiality, quality service, and objectivity.
Wall Titus, LLC is a CPA firm which also offers financial wealth management. They offer basic accounting services such as tax preparation, tax planning, tax issue resolution, IRS audit representation, etc. They offer financial services such as investment management, retirement planning, estate planning, education funding, charitable giving strategies, asset allocation, and more. They also offer business services such as accounting, auditing, payroll, succession planning, and more.
Their uniqueness stems from the fact that they are a CPA/accounting firm that offers financial wealth management services. One of the company's strengths is its longevity. They have served generations of clients over the years. They have the sophistication and diversity of a larger firm, but are not too big to offer personal and flexible service. They treat each customer like family while providing excellent service.
Lee Wall is the founding partner of Wall Titus, LLC. He is a CPA and a Personal Financial Specialist (PFS), a designation recognized by the American Institute of Certified Public Accountants (AICPA). In addition, Lee is a Certified Financial Planner and Investment Advisor. Before founding the firm in 1986, Lee worked for a large local CPA firm and publicly traded manufacturing company. He graduated from Florida Southern College where he also served as an adjunct professor. Lee served as a board member of several nonprofit organizations. He is an active member of the American Institute of Certified Public Accountants, Florida Institute of Certified Public Accountants, and Board of Certified Financial Planners. Lee was previously on the Polk County Economic Council and was involved with the development of Florida Polytechnic University.
Bob Titus is a CPA involved in the tax planning and compliance operations of the firm. Bob has more than 35 years of experience in many areas of taxation including personal, corporate, partnership, trust, estate and gift, retirement plans, mergers and acquisitions, and succession planning. Bob graduated in 1978 from Florida Southern College and began with a large local firm. He started his own firm in 1989 and then merged to form Wall Titus, LLC in 1999. He is a past president of the Sertoma Club and has served on various local nonprofit agency boards. He is also a member of the American Institute of Certified Public Accountants and the Florida Institute of Certified Public Accountants.
During the recession, they spent a lot of time and energy in helping clients keep their assets. While Wall Titus, LLC was busy advising clients how to survive, they came through it without experiencing any layoffs of their own.
Like all CPA firms, the Wall Titus, LLC staff is regularly attending mandatory continuing education seminars, classes, and certifications. They put on their own monthly "lunch and learn" classes for the staff, relating to tax codes, new software, customer relations, and more.
At Wall Titus, LLC, they recognize that everything they do has a direct and lasting impact on their clients' financial situations. That's why they built their firm on a standard of excellence that can be expressed in a single sentence: "We will always work in our clients' best interests."
With that, the Lakeland Area Chamber of Commerce congratulates Wall Titus, LLC as the Small Business of the Month for August 2016.
— Jim Russell
Picture: SBA Committee Member, Jim Russell (Cement Products & Supply Co., Inc.), presents the August 2016 Small Business of the Month Award to Lee Wall and Bob Titus of Wall Titus, LLC. Also pictured: Maggi Weeks, Angela Hall, Becky Lunsford, Priscilla Boren, Susan Decourcy, Chris McGarvey, Riley West, and Jeff Green. Not pictured: Wendy Lee, Christopher Thibodeau, and Lynn Baker.
July 2016 Winner, Golf Etc. Lakeland
JJ Miller and Luke Miller
Golf Etc. Lakeland
1527 Town Center Dr
Lakeland, FL 33803
(863) 687-7274
The Zen philosopher, Bashō, once wrote "A flute with no holes is not a flute. A donut with no hole is a Danish, and a golf community without a great local golf shop is a sad place to be." Now, let's talk about Golf Etc. Lakeland!
Golf Etc. Lakeland is a golf enthusiast's welcome alternative to the big box sporting goods store with an extreme focus on a personal approach tailored to the individual golfer's needs. This family-owned-and-operated small business opened in 2007 and is located at Lakeside Village. Golf Etc. Lakeland's stated mission is to put the proper, fitted clubs in every golfer's hands. They are able to accomplish this with performance club fittings, a wide variety of apparel and other accessories, a professional repair center (because everyone loves to toss a club or two), and swing evaluations. Technology is key in the modern golf game whether you are a beginner or an experienced golfer. Golf Etc. employs golf specific Doppler radar launch monitors in order to help optimize each fitting in their in-store hitting bay. Custom fittings can be extremely helpful in the improvement a golfer's game by ensuring the proper length and weight of their clubs.
Owners JJ and Luke Miller are the only two full-time employees at the store. They focus on hiring outgoing, personable, and self-motivated golf enthusiasts to work and learn in their store. Most of these employees are working while pursuing their education, most of which are looking to pursue future employment in the golf industry. Many have become PGA teaching professionals while others have used the experiences and education received at Golf Etc. to become successful in other types of business.
Golf Etc. Lakeland's commitment to hard work and integrity shows in the way they treat their customers and employees while also supporting our community. Their unique way of supporting the community comes by way of the golf industry as well. They assist thousands of local charity golf events in our community. Whether it is a not-for-profit organization, a youth group, school program or team, or large local amateur competition, their participation and support helps provide more value for the tournament participants while also directly supporting the event.
Thanks to their commitment to their customers and our community, Golf Etc. Lakeland creates a positive impact in our golf community as well as helping those who have never lifted a golf club. The Lakeland Area Chamber of Commerce would like to congratulate JJ and Luke Miller and Golf Etc. Lakeland as the Small Business of the Month Award winner for the month of July 2016.
— Tim Darby
Picture: SBA Committee Member, Tim Darby (Darby Law Group, P.A.), presents the July 2016 Small Business of the Month Award to JJ Miller and Luke Miller.
June 2016 Winner, Reed, Mawhinney & Link, PLLC
Andy Reed
Joe Mawhinney
Will Link
Reed, Mawhinney & Link, PLLC
1611 Harden Blvd
Lakeland, FL 33803
(863) 687-1771
"Serving clients faithfully and honorably" is not simply a well-crafted vision statement, it is the culture that has been established at Reed Mawhinney & Link, PLLC. The Polk County law firm was founded in 2007 by Andy Reed and then grew to include Joe Mawhinney in 2011, and more recently Will Link in 2012. Actively engaged in the practice areas of business transactions, civil litigation, commercial leasing, corporate law, eminent domain, estate planning and administration, homeowners association law, government relations, gun trusts, mediation services and real estate, Reed Mawhinney & Link is a well-rounded and flexible small law firm serving our community. Even during the recent recession and real estate decline, the firm continued to thrive and grow while increasing its market share. The firm's diversification, flexibility, and focus on core practice areas has allowed it to maintain a solid client base.
Outside of the practice of law, Reed Mawhinney & Link is also extremely focused on our community and supports it through financial donations and volunteer service. All attorneys and staff are encouraged to pursue personal, professional, and community development. Among the many organizations supported by Reed Mawhinney & Link are the United Way of Central Florida, Kiwanis, Explorations V Children's Museum, Polk Museum of Art, Achievement Academy, and Top Buttons.
Their culture in serving clients and passion for serving others make our community a better place. The Lakeland Area Chamber of Commerce would like to congratulate Reed Mawhinney & Link, PLLC as the June 2016 Small Business of the Month Award winner.
— Tim Darby
Picture: SBA Committee Member, Tim Darby (Darby Law Group, P.A.), presents the June 2016 Small Business of the Month Award to Andy Reed, Joe Mawhinney, and Will Link.
May 2016 Winner, WebPro Realty, LLC
Sean Harper
WebPro Realty, LLC
1420 S Florida Ave
Lakeland, FL 33803
(863) 687-8020
In the competitive world of real estate sales, brokerages seek to set themselves apart from the rest of the pack by the quality of its sales people and staff, services, and benefits. More than 30 years ago, Harper Realty was one of several locally owned real estate firms doing business in Lakeland. As the technology shifts came to the industry, Harper Realty was rebranded as WebPro Realty, LLC to better communicate the expertise of the company in the technological advances.
WebPro has the advantage of a Real Estate pedigree not often found in our market. The Harper family has been involved in housing development projects, residential and commercial construction as well as assisting buyers and sellers of real estate. After the real estate bubble burst, WebPro took a purposeful route to provide their associates with a better-than-competitive compensation plan. Therefore, they are attracting an agency sales team best suited for Lakeland and the surrounding communities. The realtors at WebPro are trained on contracts for buyers and sellers, marketing strategies, financing options, and their ever-changing legal landscape of real estate. Today, WebPro is proud to be the largest independent, locally-owned real estate brokerage in Lakeland, and as real estate commissions are earned, local businesses benefit since no franchise dollars are sent out of state.
Local ownership translates into local decisions. This flexibility in decision making benefits the clients and Realtors alike, as WebPro is less encumbered compared to the larger corporate business model.
Realtors at WebPro are in partnership with VISTE (Volunteers in Service to the Elderly) to deliver commodity boxes. Sean Harper, WebPro broker, recently led a team of volunteers to build a Victorian style playhouse to help the Lakeland Association of Realtors raise money as they sold raffle tickets to win the beautiful playhouse. Funds raised went to help those caught in the trap of the sex trade by supporting the mission of The Porch Light. WebPro is also involved in the Room Makeover program for children submitted for consideration by advocacy groups each year by offering assistance to purchase paint, electronics, and furniture for the deserving youth in our community.
With the legacy of Harper Realty before them, WebPro has served the Lakeland area by assisting the real estate needs of their clients, providing training and support for their professional sales team, and speaking for some individuals in the community that don't have a voice.
Congratulations to WebPro Realty, LLC, our May 2016 Small Business of the Month award winner, for making a positive difference in our Lakeland community.
Picture: Small Business of the Month Committee member Gary Cleveland (Rhoads/Stephens Real Estate Group / Keller Williams Realty - Lakeland) presents the May 2016 Small Business of the Month Award to Sean Harper, Brandi Harper, Robert F. Harper III, Amy Harper, Cheryl Skinner-Marble, and Jay Marble.
April 2016 Winner, BrightVolt
John L. Davis
BrightVolt
2700 Interstate Dr
Lakeland, FL 33805
(863) 603-7640
At our core, BrightVolt is energy—an energy created by talented, diverse, and bright people who share a common vision to design and build amazing technologies to change the world. At BrightVolt, we design, develop, and manufacture ultra-thin, flexible batteries. We have over 75 patents to our name with more on the way. Our custom solutions and FlexionTM product portfolio, including primary and rechargeable batteries, power a wide variety of Internet of Things (IoT) devices including sensors, medical patches, wearables, smart labels, and smart cards. Environmentally friendly, our batteries are made right here in Lakeland, Florida. We've shipped millions of thin and flexible batteries to companies around the world.
Our state-of-the-art manufacturing plant in Lakeland is where we custom design, prototype, and produce our batteries. We have an outstanding safety record and are going on seven years with no injuries. BrightVolt's contribution to the community, in addition to supporting the Lakeland Chamber of Commerce and Polk Manufacture's Association, includes local hiring, recruiting from Polk State College, and participating in local community engagements.
Creativity and innovation happen when great people come together to make great products. That's the sort of team we've assembled at BrightVolt. An incredible group of smart people who are as passionate about making great products as they are about making them as small and as powerful as possible. That's what you call "good energy" for BrightVolt and the community of Lakeland.
The Lakeland Area Chamber of Commerce congratulates BrightVolt in winning the Small Business Award for April 2016.
Picture: Terry Ottinger (Lakeland Area Chamber of Commerce) presents the April 2016 Small Business of the Month Award to John L. Davis, Sr. VP Operations, of BrightVolt. Also pictured are members of the Safety Health and Environment (SHE) Committee: Ken Kull, Roger Maguire, Shelly Sherman, Dan Clifton, Josh Burcham, Natalie Ocasio, Russell Heady, Rose Turner-Surprise, and Ronnie Tartar (absent).
March 2016 Winner, Stanley Insurance Services
Mark E. Stanley
PO Box 90276
Lakeland, FL 33804
(863) 858-8033
After a successful completion of licensing requirements in 1978, Mark Stanley began pursuit of his dream to have his own business. Just three years later, Stanley Insurance Services was born out of a desire to serve the Lakeland community and eventually the State of Florida as his business client's demands grew.
Beginning any small business takes dedication, persistence, and hard work. Inspired by the positive thinking of W. Clement Stone and Napoleon Hill, Mark began the task of cold calling prospective clients for insurance sales. His first insurance sales may have been an indicator of things to come since his client lived in Lakeland on Success Avenue.
As a home-based business, Mark combines all the high tech communication skills and devices with old fashioned face to face meetings with his clients. Stanley Insurance Services specializes in the senior market for life insurance, annuities, health insurance, and Medicare supplements. As an independent insurance agency, coverage is available from many top rated insurance companies.
Mark Stanley is a member of the Florida Association of Health Underwriters and the National Association of Professional Agents. Through the years, in service to our community, Mark has participated as a volunteer and sponsored teams for the Lakeland men's softball league and the Lakeland Little League.
Following his passion to serve others has led Mark to make a career in the insurance services business. His impact is evident, as expressed by a young woman recently who said that Mark had also, at one time, helped her great-grandmother with her insurance needs.
Thanks to Mark Stanley's leadership and pursuit of excellence, Stanley Insurance Services has made a positive impact in the Lakeland community. The Lakeland Area Chamber of Commerce congratulates Stanley Insurance Services as our Small Business of the Month award winner for March 2016.
Picture: Small Business of the Month Committee member Gary Cleveland (Rhoads/Stephens Real Estate Group / Keller Williams Realty - Lakeland) presents the March 2016 Small Business of the Month Award to owner, Mark E. Stanley, of Stanley Insurance Services.
February 2016 Winner, Edible Arrangements
Donald Bosko
Lake Miriam Square
4802 S Florida Ave
Lakeland, FL 33813
(863) 646-8440
We all enjoy getting a floral arrangement as a gift. It's a welcome sight, whether it's meant to cheer us up if we're down, help us to feel better if we're sick, or mark a special occasion. But what if we could eat it?
That's where Edible Arrangements comes in. Edible Arrangements creates simulated floral arrangements made from fresh fruit that's cut into shapes, such as flowers, with some pieces dipped in white or dark chocolate.
This store opened in September of 2003. The franchise was purchased outright in June 2011 by D & L Bosko, LLC to do business as Edible Arrangements. Don Bosko's daughter Cara is general manager and one of two full time employees. They have close to two dozen part-time employees. Don is usually close by at the Beef O' Brady's Family Sports Pub they own next door.
The company's philosophy is to achieve a "wow" factor for each of their customers and provide unique and innovative products. The employees are taught to be strong in customer service. They answer their phone calls with "How can we wow you today?" Their delivery trucks are equipped with special coolers and completely wrapped with official signage. The drivers are equipped with cell phone apps that not only gives them precise directions and arranges their stops in the most efficient order, but are also connected with the store's computer which alerts the customer by email when their order is delivered.
The store front is festively furnished with photos of their products as well as accessories and decorations that reflect the holidays and the seasons. The preparation stations, as well as the storage areas, are clean and well-organized to meet strict corporate standards. The staff is dressed in colorful logo shirts and exudes gladness when they see you come in the door.
This location is ranked 127th out of more than 1,100 stores in the United States. They have been the top 100 for sales volume for the past seven years. Training is continuous. They use photos, videos, and CDs to assist with production. The arrangements are constantly changing and the crew has to stay on top of the latest trends. The staff takes great pride in their creations which are always checked to make sure they meet company standards.
Edible Arrangements takes great pride in giving back to the community with all of the charity events they are involved with, such as the Margarita Ball, VISTEBall auction, Resurrection Catholic Church carnival, and St. John Neumann golf event—just to name a few. They provide gift certificates, boxes of chocolate strawberries, and hole sponsorships at many golf events.
The Lakeland Area Chamber of Commerce is proud to recognize Edible Arrangements as the February 2016 Small Business of the Month.
Picture: Small Business of the Month Committee member Jim Russell (Cement Products & Supply Co., Inc.) presents the February 2016 Small Business of the Month Award to Donald Bosko of Edible Arrangements.
January 2016 Winner, Senior Helpers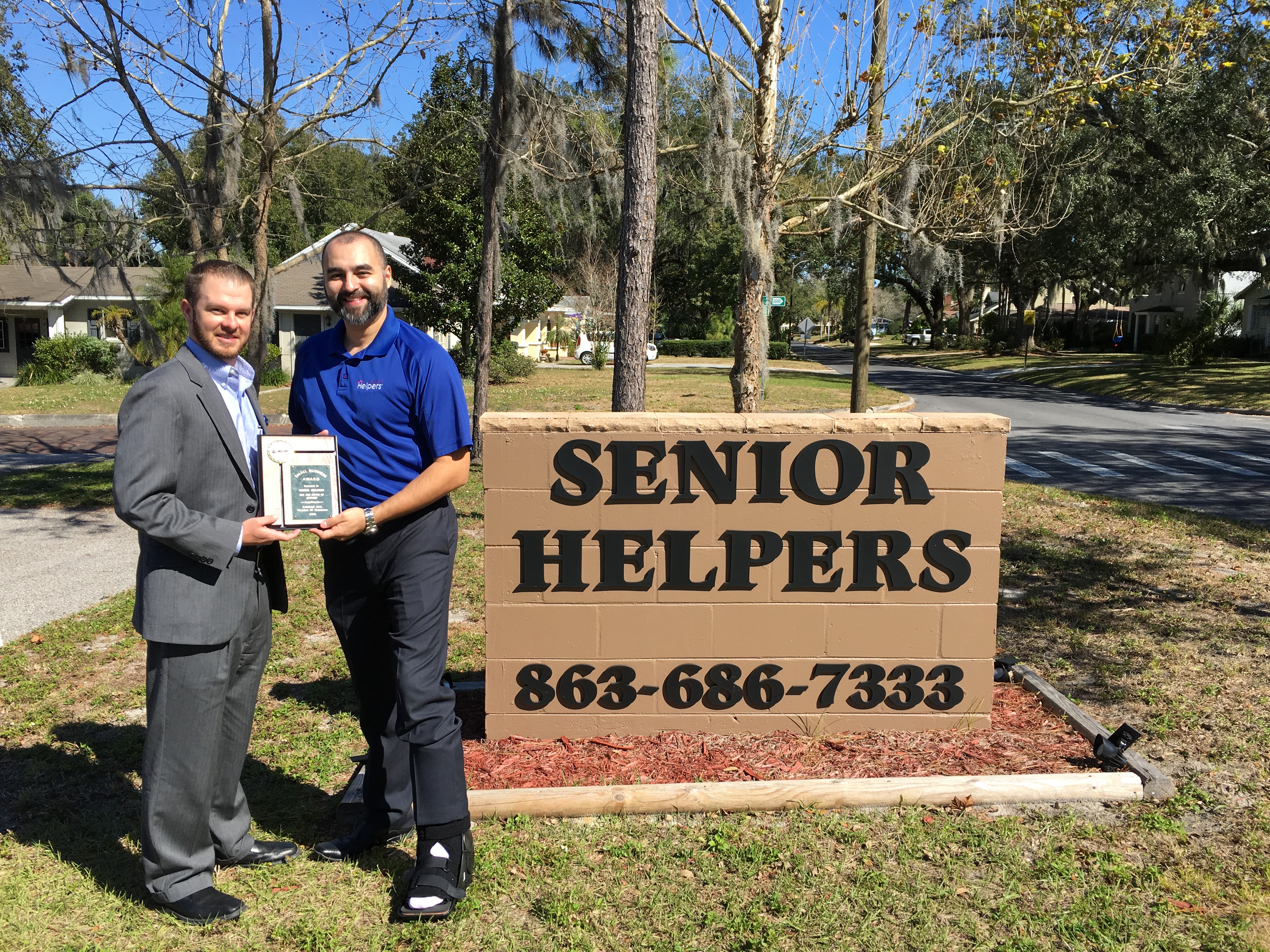 Jorge Giraldo, MBA
2515 Troy Avenue
Lakeland, FL 33803
(863) 686-7333
Many families struggle to assist their loved ones plan for the future. Founded in 2008 by Jorge Giraldo, MBA, Senior Helpers of Lakeland provides home health services and peace of mind to their clients and their families from 1 to 24 hours per day. Some of the services provided are bathing, grooming, medication reminders, dementia care, and transportation—all of which provide quality of life for their clients to continue to safely live at home.


The Senior Helpers team assesses each client's individual needs by providing a geriatric home care evaluation that involves taking a look at the client's living situation and health, activities, nutritional status, memory, emotional state, mental health, and finances in order to custom tailor the level of need. With their award-winning Senior Gems program for seniors with Alzheimer's and dementia, the caregivers are able to identify the characteristics of aging, from normal aging through early and late-stage dementia. This specialized knowledge allows the caregivers to provide guidance to family members of what the client is still able to do and formulate specific strategies and a plan for caring for the individual long term.


While finding great value in the Lakeland Chamber by participating in many Chamber activities, Jorge and the Senior Helpers team still find time to support our community through their philanthropic and educational endeavors. Senior Helpers has created a dementia education event that is hosted every two years which features a national expert on dementia care for care providers and family caregivers. Partnering with their competitors who also sponsor and assist in marketing this event, it shows that Senior Helpers is committed to doing what is best for our community and our aging population. Using funds from previous events, in 2013 Senior Helpers created a fund at the GiveWell Community Foundation which has allowed Senior Helpers to give funds to the Alzheimer's Association as well as other local organizations.


Thanks to their experience caring for seniors and their families as well as their willingness to serve our community, Senior Helpers has made a positive impact on our great community. The Lakeland Area Chamber of Commerce would like to congratulate Jorge Giraldo and Senior Helpers of Lakeland as the Small Business of the Month Award winner for the month of January 2016.


Picture: Small Business of the Month Committee member Tim Darby (Darby Law Group, P.A.) presents the January 2016 Small Business of the Month Award to CEO/Owner, Jorge Giraldo, MBA, of Senior Helpers.
December Winner, Rib Crib
Rib Crib
Owner, Ellie Selig
4960 S Florida Ave
Lakeland, FL 33813
December's Small Business Award winner was not a difficult choice, especially for the BBQ fans on the awards committee.

Rib Crib at 4960 South Florida Avenue has the proud distinction of being the only Rib Crib in Florida. Opened in 2000, Rib Crib is owned by Ellie Selig. Ellie, a graduate of Clearwater Culinary Institute, was a partner for several years, and purchased the enterprise in 2010. He is well-loved by his nineteen employees, many of them having worked at Rib Crib for over ten years. Indeed, one employee has worked at Rib Crib since it opened. If you ask any employee why they like working at Rib Crib, the answer is all about Ellie and the care he takes with his staff. "I love my boss," said one staff member. It's something you feel when you are a guest at Rib Crib – the friendship and the welcoming environment.

Ellie is not the kind of person who lets all of this go to his head, though. His work ethic and philosophy of taking care of customers also extends to his employees, and indeed the community in general. We've all seen Rib Crib supporting and catering community events such as the Boys & Girls Club of Lakeland, the Margarita Ball, the Chamber's CarBQ, Sun N Fun, and Kiwanis to name a few.

A stable business, workplace excellence and community involvement are some of the criteria for the Chamber's Small Business Award and Rib Crib makes a great new member to our SBA Hall of Fame.

So, let's talk BBQ! Rib Crib serves western-style barbeque where meats are dry-rubbed and cooked slowly for many hours in Ole Hickory Smokers. Typically, western BBQ is served with the sauce on the side which is how Rib Crib serves their smoked meat. Customers come from Orlando and Tampa for Rib Crib's dry-rubbed barbeque. For southerners who must have their meat dripping in sauce, never fear! Rib Crib's menu has offerings for you, too!

A distinction for Rib Crib in the BBQ restaurant arena is that it smokes all its meat on the premises. You can dine in, or use their drive-through. The restaurant is low key and casual with a western flair. Fun posters from Western movies hang on the walls so you'll enjoy your meal with Clint Eastwood and Burt Lancaster in Stetsons looking down at you.

Rib Crib also caters for groups and events small and large; fifteen hundred people on one occasion. That's a lot of baby back ribs!

With a mission of serving Killer BBQ, Rib Crib is doing many things right in the kitchen and beyond. The Chamber is happy to recognize this excellent Lakeland business as the December Small Business Award winner, and sends a big western Yeehaw to Ellie and his posse at Rib Crib.


November Winner, National Memorials
National Memorials
William M. Minozzi - President
3815 US Highway 98 S
Lakeland, FL 33812-4246
National Memorials is a full-service monument company which sells, designs, produces, and installs cemetery monuments for all cemeteries, including providing other related services, such as adding lettering to existing monuments, repair work, cleaning and resetting. They also produce public memorials, such as Purple Heart, various war memorials and other types of monuments installed in public places such as parks. Their products and services help provide families fitting and enduring memorials for their deceased loved ones, as well as for the public sentiments in remembering military service veterans.

Bill Minozzi, the owner, is third generation memorialist and has been in this industry all of his life. He is a Certified Memorialist, the only one in the State of Florida. This certification is provided by the largest international trade association in the industry and its requirements are extensive and rigorous. Bill is an active member of Monument Builders of North America. He has served MBNA in every possible capacity from committee member to trustee to officer. He was President in 2000 and was Treasurer for 13 years. He has provided consulting services all over the US. He is also an active member of the Florida Monument Builders Association, having also served that organization in every capacity, including President in 1998-1999 and was Treasurer for 10 years. The company has hosted industry-wide training events on its premises, inviting memorialists from all over Florida. The goal is to elevate every participant's capabilities in various hands-on areas, even the competition. The idea is that a rising tide lifts all boats and the ultimate winner is the consumer.

National Memorials spend a lot of resources, both financial and time, to maintain the physical appearance, both inside and out. As important as the image they present to the public is, it is at least equally important that they provide a clean and orderly work place for the safety and health of their employees. Their equipment is state of the art for their industry and they cross-train their employees in the interest of well roundedness and safety. The element more important than the actual sale is the creativity that each of the sales staff bring to the consumer. This includes an ability to listen to the consumer's desires, and translate those desires to an actual memorial that is unique to the person.

Their business philosophy is to define and promote mernorialization in a viable, innovative and diversified way and to enhance the awareness of rnemorialization by the general public. They believe in openness and friendly service. They subscribe to the reality that an educated consumer is their best client. Therefore, they spend quite a bit of time answering all questions and explaining every aspect of what they provide.

Ultimately, service is the key and they excel in that area with everyone. Their reputation is impeccable for all of these attributes.

Bill is an active member of the Church of the Resurrection, where he is a Eucharistic Minister and a member of the Parish Council. He is also chairman of the parish's Finance Committee. He participates extensively in pastoral matters and has contributed heavily to a recent capital campaign where more than $3 million was raised. He has been a member of The Lakeland Rotary Club since 2007. Prior to that he was a member of the Bartow Rotary Club for 22 years, where he served as president in 1995-1996. Prior to moving to Lakeland in 1985, he was a member of his Rotary Club in New York for 11 years and served 2 terms as president. He has a record of Perfect Attendance in all his 41 years in Rotary.

Over the years National Memorials have received many letters from clients thanking them for their work, caring and especially that of the employees (from those in the office to the shop to the cemetery). A basic tenet of training is for everyone to treat the grave on which they are about to install a memorial as if it was a relative of their own.

There are many examples of the company's products and services throughout Central Florida that are not located in cemeteries, but include churches, schools, libraries and public parks for such items as engraved pavers, benches, signage and so on. Bill and his company have been awarded various commendations be State and National trade associations, including Memorialist of the Year. While the concept of "repeat business" does not really apply to their industry in the way that an everyday retailer would understand it, they certainly benefit from serving families for generations. It is amazing just how many of these situations exist, and how folks tell us why they came to National Memorials. Clearly, family conversations include discussions about the monument maker and they often hear how the next generation is told to go see National Memorials for the monument for all the good reasons.

It is for these reasons that it is with great honor and pleasure to award National Memorials with the November Small Business of the Month Award.

October Winner, Two Men and a Truck



Two Men and a Truck
3220 Atlantic Ave
Lakeland, FL 33803
If you are out and about in the Lakeland area at all, chances are you have run into entrepreneur extraordinaire Jonathan Crain of Two Men and a Truck! Since arriving on the Lakeland scene in 2007 Jonathan and his team have positively impacted the greater Lakeland Community in more ways than one can count.
Two Men and a Truck is a full service moving company. They perform local and interstate moves for homes and businesses throughout the continental United States. They also offer packing services and a full line of specialty boxes and packing supplies. Everybody hates moving, so they provide an invaluable service by performing a professional move in the most stress-free manner possible. If you've ever moved with Two Men And A truck, you will never move by yourself again! The staff is knowledgeable, professional and fast! You will never find a mover standing idle during your move. The men jog/hustle when they are not carrying the Customers' belongings to save the Customer time and money. Two Men and A Truck is also one of the only moving companies that include Full Value Protection on a Customer's belongings with no deductible at no additional charge.
In his first year in operation and out of a small office, Jonathan's franchise ranked #7 out of 300 locations in the United States and he ended the year with a 98.02% referral rate. So more than 98 out of 100 people who moved with Two Men & a Truck said they would refer them to friends or family. Two Men and a Truck has been on an upward trajectory ever since, staying in growth mode and grabbing market share even through the downturn in the economy. Excellent customer service was the key to explosive growth over the last nine years, not only in market share, but in their physical facility as well. Their current location, a 10,000 square foot building that has 3,000 square feet of office space and a 7,000 square foot warehouse, has been the setting for the last two December Lakeland Chamber of Commerce Business After-Hours events.
A civic minded servant, Jonathan Crain puts giving back to the community center stage in his day to day activities. From day one, Jonathan and his wife Karen have supported local charities and organizations with their time, talent and resources. Jonathan notes, "We provide free moves to all 501c3's. We did over $25,000 worth of free moves for charities and non-profits in 2014 alone. We also sponsor events that are near and dear to me personally. We have volunteered for the United Way CIT finance team, Sunrise Community Center, Kiwanis, Parker Street Ministries, Habitat for Humanity, and EMERGE Lakeland." Being a part of the lifeblood of the community is important to Jonathan and he encourages his staff to do the same.
Recently Jonathan was installed as the Chairman of Lakeland Rotary. Other organizations he and Karen are involved in in addition to the Lakeland Chamber of commerce include Lakeland Association of Realtors, East Polk County Association of Realtors, Winter Haven Chamber of Commerce, Polk County Builder's Club, American Businesswoman's Association, and the Florida Movers and Warehousemen's Association.
If you have not yet met Jonathan (I suspect most of you have!), do yourself a favor and take the time to spend a few minutes with him. You will be glad you did. Congratulations on a job well done and on being the October Small Business of the Month, Jonathan. Keep up the good work!
September Winner, Allied Scrap Processors
Allied Scrap Processors, Inc.
Rose Mock, President
3330 E Main St
Lakeland, FL 33801
Allied Scrap Processors, Incorporated started back in 1956 when Frank & Lucille Giglia, first generation immigrants to the USA, moved from Tampa to Lakeland to start their own business. With industry backgrounds in scrap processing, the couple purchased property on East Main Street that at the time was mostly orange groves. Their children, Frank Giglia and Rose Mock grew up in the business working weekends and holidays as many children do in family businesses. Rose and Frank run the company today with 21 employees, still on the original lot their parents purchased.

The scrap industry has an interesting history, going back to when metals were first used by mankind. As peddlers travelled around, they would often trade in scrap. Today, many scrap processors are 2nd and 3rd generation family-owned businesses. And it's an important industry; over 150 million tons of materials that otherwise would end up in landfills is diverted and recycled thanks to scrap processors. The scrap industry also makes a substantial contribution to the balance of trade for the U.S., exporting $230 billion in product to steel mills, foundries and smelters in 55 countries. However, most of Allied Scrap's product goes via brokers to American foundries.

As a longtime corporate citizen in Lakeland, Allied Scrap enjoys giving back to the community. Supporting N.A.W.BO., the PACE Center for Girls and other local service organizations, Allied Scrap is also involved with the Jason Project, educating children K through 12 about the industry and opportunities for material processing.

The most impressive initiative is the company's work with local law enforcement in regards to metal theft. When theft of copper from the mines and A/C's was at its most rampant, Allied provided training to Property Recovery detectives so they could understand the industry and, together with law enforcement and legislators in Tallahassee, Allied Scrap was instrumental in rewriting of laws for metal theft and stringent requirements for processors. So successful was this cooperation that states elsewhere in America look to Central Florida and actions taken here as guidelines for their own legal framework. In the very large scrap processing industry, Allied Scrap has put Lakeland on the map.

So, next time you buy a new fridge, thank companies like Allied Scrap Processors that the metal will be recycled and put to use again, saving you and our society a lot of money and natural resources.
August Winner, Champagne Investments, LLC
Champagne Investments, LLC
1252 Lake Point Dr
Lakeland, FL 33813
Don't let the name fool you, Champagne Investments is not a French company and they do not specialize in wine futures.

However, they do bring quality to our community through their ownership, leasing and management of residential and commercial properties. They take pride of ownership to a higher level by using competent staff personnel and quality service firms. Steve credits his right-hand man, Robert Williams, for his work in the day-to-day operations. Tenants are treated with respect and if property issues occur, the tenants are given a prompt response. As a small business, Champagne Investments, is poised to provide careful, personal attention to each tenant.

Lynda and Steve Buck had honed their business acumen during their years at Mutual Wholesale. After the sale of Mutual to U.S. Foods, Champagne Investments was started in 2001. Now, like Mutual Wholesale, the business serves our community in a low profile manner. The quality of the business and its leadership speaks for itself.

Both Lynda and Steve demonstrate a servant's heart as both have given their time and talents to the needs of the Lakeland area. Lynda has been a long time member and supporter of the Junior League. Steve has served the Downtown Kiwanis over 20 years, including service as the Pancake Festival chair and President of the club. He has also given his leadership skills to the Alliance for Independence, the Lakeland Yacht and Country Club, United Way of Central Florida, LRMC Foundation and is currently on the Board of Trustees at Florida Southern College. Lynda and Steve's love for the fine arts in our community has been evidenced by their support of the Polk Museum of Art. Steve has served both as Board President and as Chair of the Board of Governors for the museum and Lynda is the current President of the Board of Trustees. In appreciation of their devotion to the Polk Museum of Art, the Bucks were awarded the museum's annual Harrison-Hooks Lifetime Achievement award in 2012. Lynda and Steve also have supported the Salvation Army's Community of Hope, Lakeland Volunteers in Medicine, and First United Methodist, Lakeland.

For making a positive difference in our community, congratulations to Champagne Investments, the Lakeland Area Chamber of Commerce Small Business of the Month Award winner for August 2015.
July Winner, The Ettensohn Agency/Allstate
The Ettensohn Agency/Allstate
Bob Ettensohn - President
3504 S Florida Ave
Lakeland, FL 33803
(863) 644-1188
The Ettensohn Agency representing Allstate Insurance took off 14 years ago when Bob Ettensohn hit town running, immediately getting involved in the community and making Lakeland his business and residential home of choice. Bob had a career in Allstate Insurance corporate but wanted to try his hand at the entrepreneurial side of the business and has made a great success that despite some troubling times (anyone remember the 2004 hurricane season? He does!) has stayed steady and steadfast through the rough waters of hurricanes and economic conditions.

Bob has consolidated three agencies into his office at 3504 South Florida Avenue, where you are welcome to come in and view the results of his complete remodel that includes quality custom trim and mouldings largely designed and constructed by him. Between woodworking and operating an insurance business Bob gets involved in many facets of Lakeland life, including Lakeland South Rotary (past board president), Lakeland Chamber of Commerce (Chamber Leads, Leadership Lakeland), Club Success for Peace River Center, and the Police Athletic League. The firm provides a full-range of personal and business insurance coverages tailored to the specific needs of the client, with his stated mission being to not only provide insurance coverages, but to educate his clients what and why various coverages are important.

The Ettensohn Agency and Bob Ettensohn have been a great addition to Lakeland business and civic life, we are happy he chose Lakeland for his home, and we look forward to many more years. Best wishes to The Ettensohn Agency as the July 2015 Small Business of the Month winner!
June Winner, The Terrace Hotel
The Terrace Hotel
Bruce Dunbar - General Manager
329 E Main St
Lakeland, FL 33801-5046
The Terrace Hotel, a full service boutique hotel located in the heart of Downtown Lakeland on Main Street overlooking the historic Lake Mirror Promenade, is a perfect combination of up to the minute modern day hotel amenities and a trip back to 1920's Florida boom time. Guests at the Terrace enjoy free valet parking and wi-fi. Other services available include a business center, dry cleaning, private dining room for small business meetings or events and a large events room for business meetings or social receptions. The Terrace Grille is recognized as one of the best restaurants in Central Florida and offers fine dining for breakfast, lunch, and dinner as well as offering room service for guests. There is also a full service bar, and it would be remiss not to mention the excellent desserts – if you order the Oreo Ice Cream Sandwich you will be back for another at your next opportunity.

In addition to the excellent food another high point of the dining experience at the Terrace Grille or a stay at the hotel is the setting. There are soaring pecky cypress ceilings, an original checkerboard slate floor, an outsize mural depicting Downtown's historic Lake Mirror Promenade, and views through elegant floor to ceiling arched windows of Downtown's vibrant street life. All of these amenities were preserved by the present ownership when they brought the hotel back from the brink of demolition in 1998 saving an historic landmark which first opened its doors in 1924 when Florida Collier Court Hotels the downtown Lakeland location, a sister to other hotels in Miami, West Palm Beach, and Tampa.

Since re-opening in 1998, the Terrace's goal has been to provide each and every guest with a truly unforgettable, equally restful, experience. The management aims to provide each guest with an exceptional, comfortable experience unlike any other to be found in Lakeland. There are 73 spacious guest rooms and 15 guest suites, all of which offer extensive, unobstructed views, luxury linens, and elegant furnishings.

The Terrace Hotel is a member of the Historic Hotels of America, a group of over 200 luxury hotels that have faithfully maintained their historic architecture and ambience. To be selected for this program a hotel must be at least 50 years old and listed in the National Register of Historic Places. The Terrace Hotel is only the third hotel to be designated both a Preferred Boutique Hotel and a Historic Hotel of America.

Perhaps more important to our local population, the Terrace Hotel is a contributing member of the community. If you are at a fund raising event for a local non-profit, you are sure to find an opportunity to bid on a fine dining experience, a room for two, or combination basket donated by The Terrace. A highlight of each year's Lake Mirror Classic Car Show in October is the Parade of Waiters. Visitors line the route to watch wait staff in tuxes, led by a bagpiper in full kilt, parade from the Terrace to the Frances Langford Promenade to deliver on silver trays held high lunches for the participants in the car show's Concours d'Elegance. Lunches and wait staff are provided each year by The Terrace. And no Christmas Holiday is complete without a trip to the Terrace Lobby to pose in front of the elaborately decorated two story Christmas tree for a photo while listening to local high school choirs caroling.

In fact the Terrace is such a great place to visit, it has also become a great place to work. Unlike most hotels and restaurants which experience high turnover of employees, the highly trained staff at the Terrace has less than a 10% annual turnover rate. Many of the staff have been at the hotel for over ten years. All of these attributes combined make the Terrace a local gem for both visitors and local citizens to savor and enjoy. Come visit and enjoy a brief stay, a meal, or just a dessert. You'll be glad you did, and the staff will make every effort to make sure you return.
May Winner, Four Paws Only
Four Paws Only
Owner, Sandy Hargreaves
2215 E Edgewood Dr.
Lakeland, FL 33803
Walk into Four Paws Only on any given day and you will find a furry flurry of activity and fun. Four Paws provides a Grooming & Pet Spa, Overnight Boarding and Doggie Day Care. Care is provided on-site for cats and dogs, but can accommodate other pets as well. We've all heard the saying "While the cat's away, the mice will play." In similar fashion, while Mom and Dad are away, the pups will play at Four Paws Only! Daycare pups arrive in the morning and are greeted by a friendly, experienced staff that will make sure their day is full of supervised, safe fun. The Doggie Day Care has multiple air conditioned areas as well as a fenced play yard outside. Small and big dogs are separated for safety. As a puppy parent of three I can vouch for the fact that the pups absolutely love their time at Four Paws. From water play days and luaus to birthday parties, these dogs have done it all and there are pictures and videos on Four Paws Only's Facebook page to prove it!

Of course not all visitors who make their way to Four Paws Only are there for Day Care. Four Paws Only provides grooming and spa services and boarding for your furry friends too. For 21 years, Sandy and Ron Hargreaves have been providing the best in care and boarding for Lakeland's pets. They are passionate pet lovers who have created a one-stop shop for your pet's needs. With a pet boutique and food for your fur babies, you really can find all you need here. At a glance it is easy to see that the Hargreaves are setting the standard for pet care. Their building, located on Edgewood drive, is one thing sets Four Paws Only apart from its competitors. Constructed of concrete block with concrete walls between each section of the facility, this building will stand up to any natural disaster. Most other facilities are housed in warehouses that would not be safe in a hurricane. In addition, the building is outfitted with a perimeter security system and cameras that Sandy and Ron monitor via their ipads, computers and phones. They receive alerts each time there is any activity – for example an employee coming or going or a roaming pet escape artist.

Our community is lucky to have Sandy, Ron and their staff making a difference in Lakeland. Along with running their business and providing the best in pet care services the Hargreaves and their staff have been heavily involved in multiple rescue organization making sure that orphaned pets receive proper care and find forever families. There are a number of really great places in Lakeland one can take their pets for grooming, day care and boarding, but none like Four Paws Only. Congratulations, Ron and Sandy, on being named the May Small Business of the Month and on a job well done!
---
April Winner, Brooks Chandler Reality LLC
Brooks Chandler Realty LLC
Aaron Chandler , Broker
3900 S Florida Ave #304
Lakeland FL 33813
Every Real Estate transaction is unique. There's a myriad of players involved in the transaction. Between the buyer.seller, brokers, Realtors, mortgage lenders, inspectors, appraisers, and insurance agents, there are challenges within every opportunity to communicate with each other. The needs of every buyer, seller and investor are unique. The true Real Estate professional possesses the skill set that enables them to succeed inside this very fluid work environment. So when you find Realtors who thrive in the challenges of today's real estate market, who are supported with a Broker who has excelled in our marketplace, and have a firm small enough to customize to personal situations and accommodate the needs of their client, you've found our April winner of the Small Business of the Month, Brooks Chandler Realty.

Winning awards is not new for the Chandlers. Casey Chandler won the honor of Lakeland Association of Realtors (LAA) 2009 Secretary of the year. Brooks Chandler won the 2009 LAA Realtor of the year and Aaron Chandler won the 2010 LAA Realtor of the year.Their love of Lakeland has been demonstrated through leadership on the Lakeland Downtown Partnership, SPCA board of directors, and the Drug Prevention

board. Aaron has served on the LAA board including as their president in 2013. He also has served the Real Estate professions in central Florida by his leadership on the Mid­ Florida Regional Multiple Listing Service board for 6 years including one year as president.

Brooks Chandler Realty supports our community through Dress for Success, Kids Pack, Paint your Heart Out, VISTE, and Florida Baptist Children's home annual toy drive. The Chandlers have experienced the tragic results of kidney disease in their own family. Out of their struggles with kidney disease, they have raised over $5000 for the National Kidney Foundation during their annualwalk to help others facing this life threatening disease.

The Chandlers believe working in the Real Estate profession affords them an opportunity to work along side community leaders who truly bring growth opportunities to our local economy and higher education. Thanks to Brooks Chandler Realty's hands on approach to the individual, the continued drive to keep up with the ever changing technology and market trends, the perseverance to stay a small family owned firm, and their love of Lakeland, they have made a positive impact of our community.

Congratulations to our April 2015 Lakeland Area Chamber of Commerce Small Business of the Month, Brooks Chandler Realty.
---
March Winner, Hulbert Homes, Inc.
Hulbert Homes, Inc.
Owner, Mark Hulbert
464 W Pipkin Rd, Ste 1
Lakeland, FL 33813
"Our goal is to make raving fans." Even though this is not Hulbert Homes' official motto, owner Mark Hulbert states that by doing this, "we are very close to achieving our main philosophy of providing a superior product with quality and integrity.

Hulbert Homes has been constructing custom homes in Polk and Hillsborough counties for eighteen years. Much of their success can be reflected in the teamwork atmosphere of the staff at Hulbert Homes.

Instead of competing apples to apples with other builders, Hulbert Homes believes it is their process that makes them stand out. The project doesn't start when the foundation is poured, but rather the first encounter with builder and homeowner. The relationship is a critical component of the Hulbert Homes process. They believe in discovering the client's dreams and ideas, transcribing them to paper, and from paper to reality.

By the end of the economic crisis of 2009, Hulbert Homes, while not untouched, came through by standing by their "quality and integrity" principles and by shifting to more environmentally friendly methods and products, thus providing value and energy savings for their customers. During the recession, Mark became a Certified Green Professional with the National Association of Home Builders. Hulbert Homes now strives to use green products wherever they can. The key is in the payback period (the period of time the product will benefit the homeowner) and the positive impact on the environment—both of which are explored prior to installation in a Hulbert Home.

Mark learned construction under the tutelage of his younger brother and later pursued his contractor's license. In 1997, he built his first home; customers who remain friends to this day. By the end of 2015, Hulbert Homes will break ground on their 700th home.

Along with the NAHB, Hulbert Homes is also a member of the Polk County Builders Association (PCBA) and the Florida Home Builders Association (FHBA). Mark and Linda Hulbert, along with many of their employees, are active participants and contributors in several local charitable organizations such as Highland Park Church, Boys & Girls Club, Project Care Outreach, PACE, Idols Aside, Faith Runners, Jesus Film, Talbot House, and Young Life and Alliance for Independence. However, possibly the most notable act of charity came in 2014—a mission inconspicuously known as the Polk City 3:4 Project.

Last year, a friend of Mark's, Tim Williams, asked if he would donate his time and expertise to fix the roof of the home of an elderly Polk City woman and her 14-year-old adopted daughter. After inspecting the situation, Mark and Tim decided they needed to demo the existing house and build a new one in its place. He donated Hulbert Homes' time and labor and rallied several subcontractors and suppliers to donate to the cause. When it was all said and done, the woman and her daughter had a brand new home, free of charge.

Hulbert Homes has a history of satisfied customers. The evidence is in the numerous letters of gratitude, referrals, and repeat customers on the informative and well-furnished website (www.hulberthomes.com). It is with great honor and pleasure to award Hulbert Homes, Inc. with March's Small Business of the Month Award.
---
February Winner, Florida Lifestyle Communities
Florida Lifestyle Communities, LLC
Arthur H. Erickson
146 Horizon Ct
Lakeland, FL 33813
Florida Lifestyle Communities, LLC, and its affiliate companies plan, develop, and construct lifestyle communities throughout Central Florida, and have succeeded at this for more than 30 years. The company's mission is to give each of its customers not only a well-built and well-designed home, but also an attractive, engaging neighborhood environment in a community that fosters friendships, health, and long-term enjoyment of life. That goal has been achieved by building 4,500 homes throughout the state, including more than 1,800 in the greater Lakeland area. Local communities include Silver Lakes, Highland Fairways, The Colonnades, and Carillion Lakes. "Excellence is our way of living" is the company motto and it is fulfilled by FLC's commitment to offering its owners a high level of personal service, along with homes individually customized to their family's specific needs and desires.

The company's nimble management style and careful attention to market shifts have helped FLC successfully weather numerous economic cycles, competitive challenges and changes to national and local government policies. The firm operates out of a professional two-story building in south Lakeland, and currently markets and builds communities in Lakeland, Ocala, and Leesburg. Principals Art Erickson, Tom Eleazer, and Robbie Salzman have been active in Lakeland civic activities, including Lakeland Area Chamber of Commerce Board member, Chairman's Circle, Leadership Lakeland, Central Florida Development Council, Polk Businesses for World Class Education, Polk County Builders Association, Leadership Polk, and The Lakeland Rotary Club. The firm provides a flexible work environment and employees are encouraged to give back to the community in their own venues. The Chamber is proud to have Florida Lifestyle Communities, LLC in our community and proud to recognize the firm as the February 2015 Small Business of the Month.
---
---